50 years PistenBully
The PistenBully adventure began a good 50 years ago on the Seiser Alm in South Tyrol. Half a century later, the company from Laupheim, Germany proudly takes a look back upon a unique success story — a story that is far from over. An anniversary worthy of being celebrated.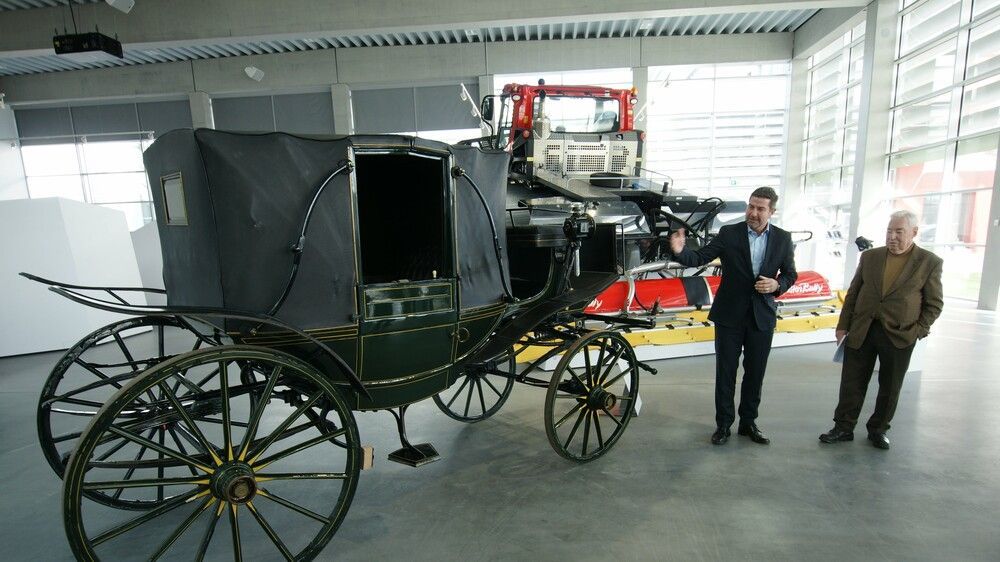 In 1967, nature lover Karl Kässbohrer spent his annual ski vacation at the Seiser Alm in Italy's South Tyrol. He ran the company, then known as Kässbohrer Fahrzeugwerke, together with his brother Otto. At that time, it was one of the most successful manufacturers of buses (the "SETRA") and utility vehicles with 5,000 employees worldwide. But what was it that inspired this Swabian tinkerer to develop a snow groomer?
While up on the Seiser Alm, Kässbohrer had observed all kinds of "creative" slope equipment that was in deployment. He knew his company back home in Ulm could do it better. Ambition was roused—and apart from that, for once he wanted "to develop a vehicle meant only for enjoyment and pleasure". Said—and done. 2019 - The circle closes As is well known, the Kässbohrer family of Ulm, Germany were owners of the Kässbohrer Fahrzeugwerke GmbH until 1994. The basis for this successful company was once created by Karl Kässbohrer, Sr., Ulm wainwright, born on 6 September 1864.
The later founder of the carriage factory and the first Ulm body factory had already gained a basic knowledge of simple carriage building during his apprenticeship at an Ulm wainwright's shop. Later he learned "fine" coach building in Vienna and also build coaches himself. In this time the coach, Landauer model, year of manufacture 1908 was developed. The Landauer was built in 1908 in a series of 5 coaches. One of them is still in the possession of the Kässbohrer family today. Now the circle closes on the occasion of the 50-year PistenBully anniversary. The grandson of the former wainwright and coach builder, Karl Kässbohrer, Jr., gives this special Landauer coach to Kässbohrer Geländefahrzeug AG as a gift. The formal handover took place on 31 January 2019 in Laupheim, Germany, and is therefore the kickoff in the anniversary year. There was no holding back Just two years later in 1969, the first PistenBully was delivered. Its critical innovations were its diesel engine and hydrostatic drive. The success story took its course.
To date, over 22,000 PistenBullys have been delivered worldwide. The name PistenBully has become a proprietary eponym and stands representatively for a snow groomer. Always in the service of the customer Out of "just developing a vehicle for enjoyment and pleasure," a globally active but still close-knit family-run company of over 600 employees has grown. PistenBully has refined the slope vehicle like no other—always in close coordination with the customer. The new PistenBully 600, featuring assistance systems and the highest level of driver comfort, is the cleanest and quietest vehicle on the market today.
In SNOWsat, PistenBully is offering a proprietary professional slope and fleet management system that includes snow depth measurement. SNOWsat will also accompany PistenBully towards the future. Soon there will be a system available to customers that gathers, analyzes and processes the enormous amounts of data at the ski resort. For the benefit of customers and skiers. A perfect occasion to celebrate The company is celebrating this special birthday with its customers, employees and the entire global organization. Because at Kässbohrer, we know how to celebrate. This is certainly well known, and has been for a long time now. Events are planned all throughout the year at various locations—locally in various countries, at the Interalpin trade show in Innsbruck, Austria, and at the new logistics center in Laupheim. There will be surprises the whole year round that at this point have not been disclosed just yet. Definitely something to look forward to! The stars of winter sports will be welcomed in Laupheim Those in Laupheim can look forward to one event in particular: in October during the 2019 anniversary year, Kässbohrer Geländefahrzeug AG will proudly host the DSV Einkleidung (outfitting event of the German Ski Association). Each year, this event marks the beginning of the German national ski team's season. On this day, all alpine skiers, biathletes, cross-country skiers and Nordic combined athletes, freestylers and free skiers as well as ski jumpers and their teams will be there. It is a great honor to have this important event of the industry take place at Kässbohrer during our anniversary year.