Become the expert
Become the expert with PRO ACADEMY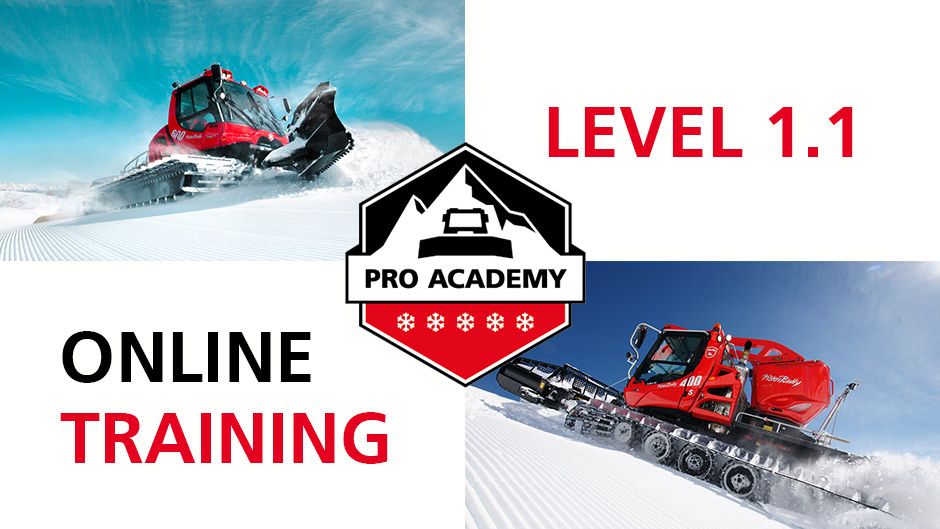 The new online training from PRO ACADEMY is for snow groomer drivers and anyone wanting to expand their knowledge of the technology, controls and maintenance of specific snow groomer types. Once you have completed Level 1.0 training for beginners, you can access the Level 1.1 training at anytime and from anywhere – via smartphone or tablet, for example.
What is Level 1.1 training from PRO ACADEMY all about?
The Level 1.1. online training includes detailed information about various snow groomers. The training content ranges from vehicle usage through to proper handling of the battery, controls and maintenance. There is a particular focus on safe and responsible use of the machines. Level 1.1. training is currently available for the following vehicles:
PistenBully 400
PistenBully 600
Further Level 1.1. training courses will be available online soon for other vehicle types.
For whom is the PRO ACADEMY online training intended?
Level 1.1 online training is intended for all snow groomers who want to learn more about the correct usage, technology and regular maintenance of the vehicles. It is currently available in 4 languages (German, English, Italian and French) and can be accessed at any time. Prospective snow groomer drivers will gain comprehensive basic knowledge of a specific vehicle, making it easier for them to enter the jobs market. The course participants receive a certificate once they pass the test, as proof of the knowledge they've acquired for future employers.
For snow managers: latest technology used efficiently
Get the most from your fleet – the PRO ACADEMY online training teaches the participants everything they need to know about working efficiently and economically with snow groomers. The knowledge pays dividends: As knowledge of the functions and settings is consolidated during the training using the various components, the vehicle can be adjusted and controlled with great precision. This ensures optimal use of the existing technology in the vehicle. In addition, the right know-how of daily control work or simple maintenance tasks extends the service life of the vehicles, thus reducing costs for maintenance and service. Register now! Level 1.1 training from PRO ACADEMY is available online now for PistenBully 400 and PistenBully 600 in four languages (German, English, Italian, French). Click here to go to the online training.