Supplier Day
On the occasion of its 50th anniversary, Kässbohrer Geländefahrzeug AG invited its business partners from the supplier area to an exclusive Supplier Day at the end of the season. In the Sölden municipality of Tyrol, Austria, they not only got to see their products again—now incorporated into the PistenBully—but also had the opportunity to test them personally during a ride with the snow groomer.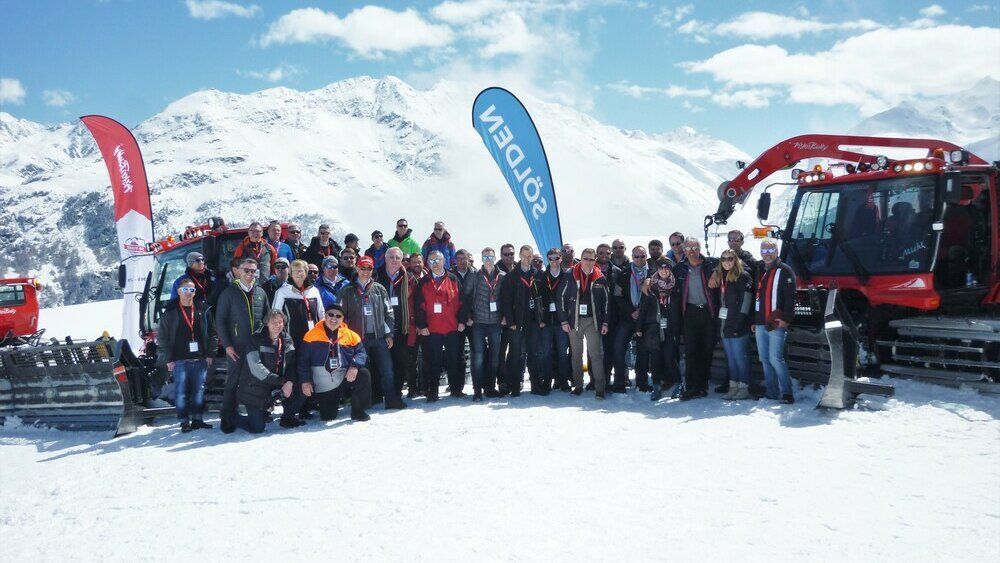 Kässbohrer Geländefahrzeug AG took the PistenBully's 50th birthday as an occasion to invite numerous partners from the supplier area to Sölden, Austria. And they were all happy to travel the long distance.
In collaboration with the lift company Bergbahnen Sölden, a multifaceted event was put together at an altitude above 3000 meters (9840 ft). It ranged from interesting technical presentations from the various product areas such as SNOWsat and PowerBully to future strategies in the area of purchasing. Here, suppliers were obligated to upcoming requirements for the current and new season. Spokesman of the Board Jens Rottmair gave an interesting and entertaining overview that ran from the origin of the first PistenBully up to the high-tech vehicles of today.
This special day was rounded out with a visit to the famous James Bond Museum "007 Elements" and a PistenBully drive during which the participants could demonstrate their skill. Some of the suppliers were quite happy to rediscover their products installed in the finished vehicle. Even the weather made a contribution. Although the mountain landscape looked rather subdued because of fog and snow on the day before, on Supplier Day it shined with numerous hours of sunshine and an impressive panorama. No wonder the participants were in such high spirits when they traveled back home.