Where it all began
A very special event took place on Seiser Alm in Italy at the end of March.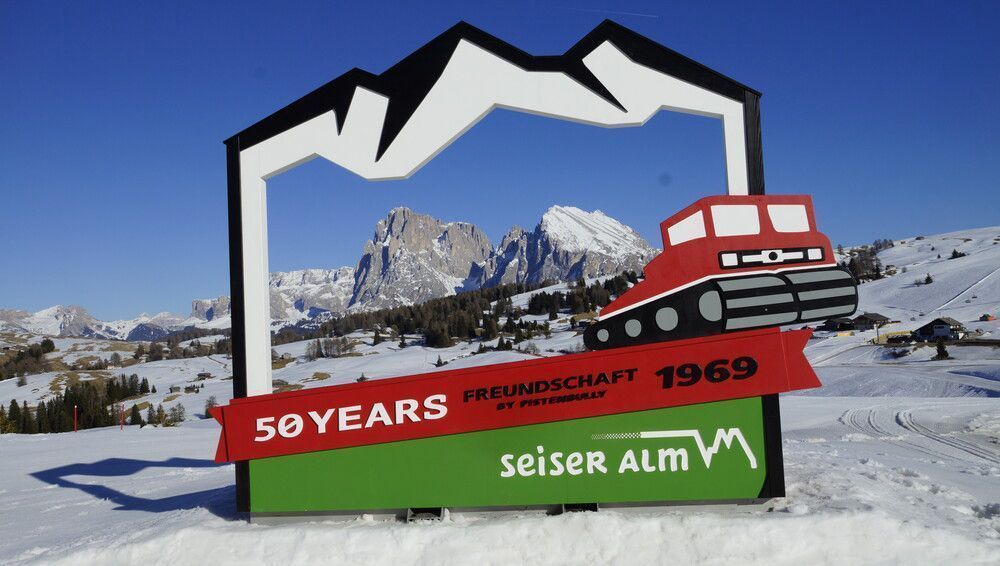 Here, in the middle of the Dolomites, the idea that would change everything occurred to Karl Kässbohrer about 50 years ago: the PistenBully was born!
On our 50th anniversary, we returned to this memorable location to celebrate together with our customers and many other PistenBully friends. At the beginning of the two-day event, Kässbohrer Geländefahrzeug AG bestowed a special gift on the Seiser Alm ropeways. Now, there is a Fotopoint not only framing the picture-perfect panoramic view of the Dolomites but also commemorating the moment in which the PistenBully was born—and the 50 years of friendship ever since.
PistenBully in a time-lapse
A hostess acted as the emcee for the anniversary event, which also saw many former employees and other persons close to our company among the guests. A particular highlight was the PistenBully time travel show. Six PistenBully vehicles, three classics and three current models among them, illustrated the development of the last five decades. They were accompanied by matching fashion styles and soundtracks for each era. The audience loved the entertaining show, which got good laughs.
Fire crackers for dessert
After the afternoon program and the group dinner, the guests were treated to a spectacular dessert. The impressive fireworks were the crowning conclusion of a glamorous birthday party.