World first!
Is it possible that slopes will soon be groomed 100% emission-free?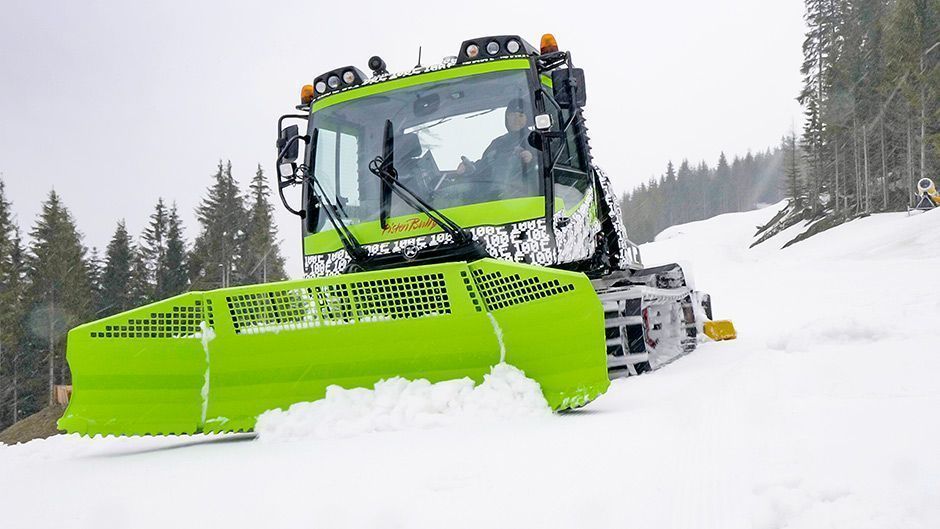 At INTERALPIN 2019 in Innsbruck, the international leading trade fair for Alpine technologies, PistenBully is celebrating its 50th birthday – and in doing so, gives the industry an answer. With the study of the first electrically driven snow groomer, the PistenBully 100 E, this answer is a clear "Yes!".
Environmental technology – Made in Germany
The first step was already taken in 2012 with the market launch of the PistenBully 600 E+ with diesel-electric drive. After all, the focus at Kässbohrer has been on sustainability for a long time now. So it should come as no surprise that, with the PistenBully 100 E study, Kässbohrer engineers have now made the impossible possible. Already well-known for their inquisitiveness and passion, paired with their claim as being drivers of innovation and possessing environmental awareness, it was only a matter of time until a study such as this was conducted. What this means is that we now have the prospect of completely clean slope grooming.
Zero percent emissions - 100 percent PistenBully
For the first PistenBully 100 E, the energy capacity of the battery is 126 kWh with a rated voltage of 400V. The charging time is of particular interest. At 5 hours, the SoC (State of Charge) is at 75%. After 6.5 hours, the battery is completely charged. In purely mathematical terms, this provides an average driving time of 2.5 to 3 hours. In the process of the PistenBully 100 E program, the number that says it all is 100: 100 % emission-free – and nevertheless, a 100 % genuine PistenBully. As a genuine PistenBully, the 100 E has already been successful in the snow - and passed its first test drives in a very convincing way. An extensive number of tests have been carried out during the study, because only well-engineered technology meets the high-quality demands of Kässbohrer Geländefahrzeug AG. Highly promising prospects!