Kids Snow Day
Once again, the "Kids Snow Day" broke all previous records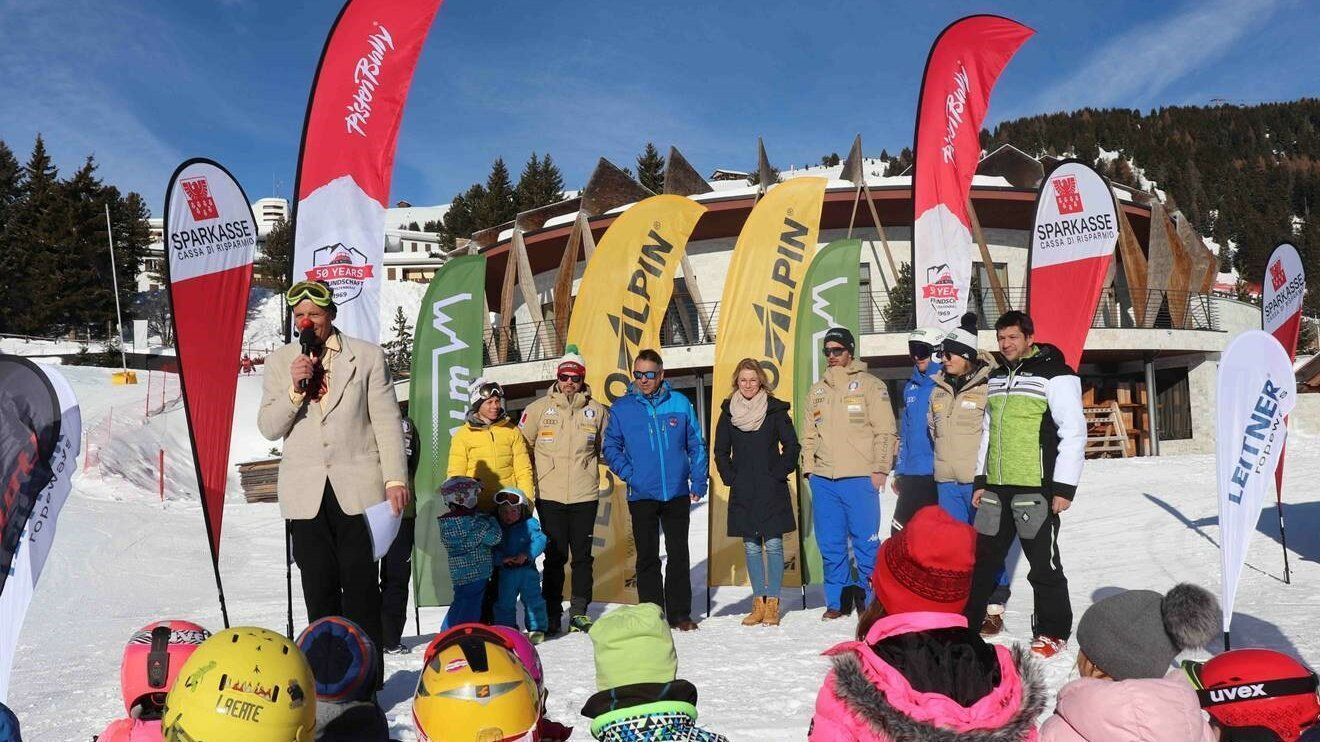 This year, well over 3,500 five- to twelve-year-olds accepted the invitation of the Association of Cableway Operators and the Professional Chamber of Ski Instructors. At the eighth nationwide event, skiing, snowboarding and cross-country skiing could be tried out free of charge.
This year it was especially funny on the Alpe di Siusi, where the main event (with the clowns Konrad and Gabi from Comedicus, among others) took place. The winter sports figureheads Peter Fill, Denise Karbon, Peter Pigneter, Michael Schieder, Verena Gasslitter and Sandra Robatscher as well as member of parliament Jasmin Ladurner were present. "Our offer has been accepted again", say Helmut Sartori (Association of Cableway Operators) and Claudio Zorzi (Professional Chamber of Ski Instructors) happily.
Well over 3,500 children had come to the South Tyrolean ski areas for the eighth "Kids Snow Day" - and there they approached skiing, snowboarding and cross-country skiing. The day ticket and also the corresponding course were free of charge, and the equipment was also provided free of charge if required.
This year, the main event took place on the Alpe di Siusi, in ideal weather and on fantastic slopes. On the snow stage at the top station of the cable car a funny entertainment program was offered - the clowns from the Comedicus association provided a lot of laughs and a great atmosphere beside and also on the slopes.
Over 300 five to twelve year olds came to Castelrotto to experience a great, unforgettable winter sports day. Almost all participating ski areas were completely booked out this year. "We will definitely repeat the event next year - and come up with something new again," assured Helmut Sartori and Claudio Zorzi. Meanwhile, they point to two other interesting events: the "Teacher's Day" on 19 January on the Plose (aimed at teachers) and the snow week "With the school on the slopes" from 21 to 24 January in the Jochgrimm ski area (for secondary school classes).
The various initiatives of the Provincial Professional Chamber of Ski Instructors of South Tyrol and the Association of Cableway Operators of South Tyrol are supported by the Autonomous Province of Bolzano-South Tyrol. Other sponsors include Alperia, Assibroker, Axess, DemacLenko, Doppelmayr, Intercom, Leitner, Libus, Kässbohrer - PistenBully, Prinoth, Sitour, Skidata, Südtiroler Sparkasse and Technoalpin.