New photovoltaic system
At the end of April 2020, the new photovoltaic system of Kässbohrer Geländefahrzeug AG in Laupheim was connected to the electrical grid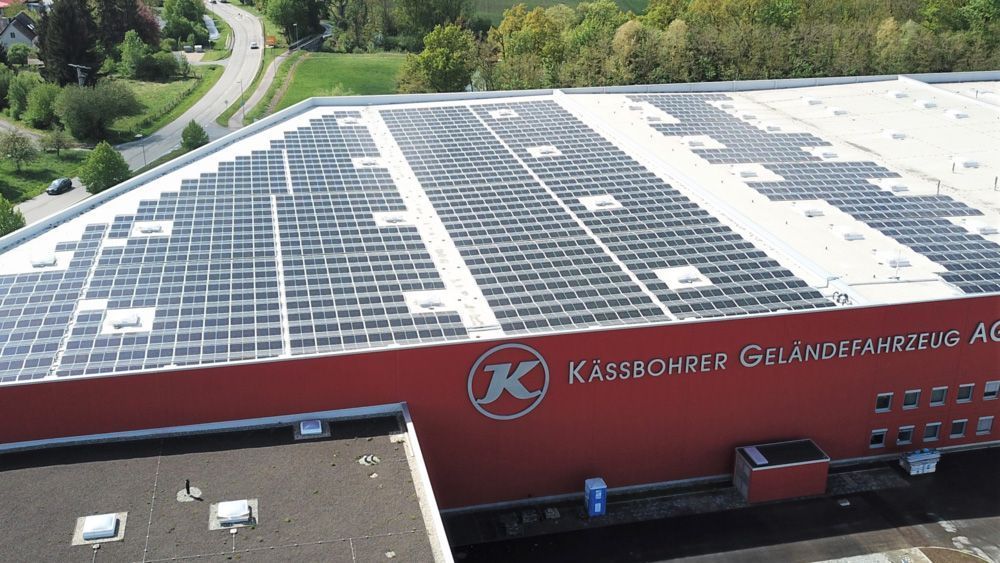 The new photovoltaic system is part of a comprehensive power generation concept in which Kässbohrer uses available resources efficiently, emphasizing its responsible treatment of the environment.
The new photovoltaic system covers an area of approximately 6,000 m2 and has a total weight of almost 90 metric tons. It is located on the roof of the new logistics center, aligned in an east-west direction, and has a total power output of almost 750 kWp. Over 2,200 modules are installed at an inclination of 10% and thus optimized for the company's own use.
The new photovoltaic system is an important contribution to better protection of the climate, allowing Kässbohrer Geländefahrzeug AG to reduce CO² output by 368 metric tons per year! The new photovoltaic system has increased the possible total power generation capacity to 1,600 kW. Thanks to the connection to the control center of the Netze BW utility company, the power output of all generating systems can now be controlled remotely. Surplus energy is transferred to the utility and sold by a direct marketer on the electricity exchange in Leipzig.
An new transformer station has been built to allow for distribution of the generated power in the electrical grid of the plant. Like the vehicle test benches before, it has been connected to our existing 20 kV electrical grid and will also supply the planned vehicle charging stations with power. Thanks to the new photovoltaic system, the existing combined heat and power plant and the energy recuperation at the two vehicle test benches, Kässbohrer Geländefahrzeug AG will generate over 50% of its annual electricity consumption itself in the future!