X Games
It's a wrap: X Games Aspen, Colorado (US)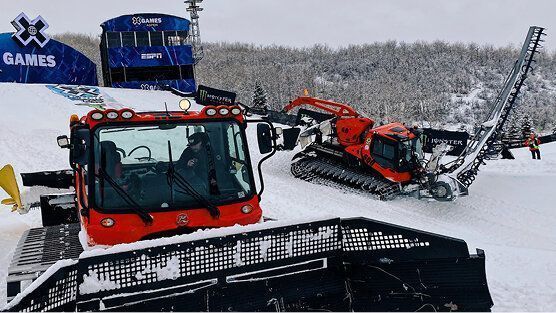 This year again, Winter X Games took place in Aspen, Colorado. Four action packed days of skiing, snowboarding, snowmobiling and snow-bike racing went down at Buttermilk Mountain, in the center of the Rocky Mountains, where hundreds of athletes competed for the title in their various disciplines, i.e. Slopestyle, Special Olympics Unified Race, Bike Cross, etc.
Building the X Games is no small undertaking.
From the grand stands, to the course itself, there are hundreds of hands on deck, and tons of moving parts! Equipped with a fleet of PistenBully, our partners at Snow Park Technologies (SPT) made this challenging job viable.
As the Winter X Games in Aspen are a yearly mecca for action sports athletes, the X Games hosts started to expand the event series to Norway a couple of years ago!
Game on: X Games Norway
For the fifth consecutive year, X Games now take place in Europe, too! From March 7th to 8th 2020, the event takes the stage at the Norwegian ski resort Hafjell. The arena for X Games Norway is going to be built within 10 days, a record pace compared to the regular three weeks building period. PistenBully provides two top modern snow groomers in order to make this ambitious plan happen. Our long-standing partner and sports design firm Schneestern has developed the slope design and is also in charge of the shaping process.
PistenBully is honored to be involved with the X Games in the US as well as in Norway alongside our partners SPT and Schneestern.