The new PistenBully 600 Polar GreenTech
PistenBully 600 Polar GreenTech – a vehicle for snowy and non-snowy seasons alike – and the first GreenTech model with winch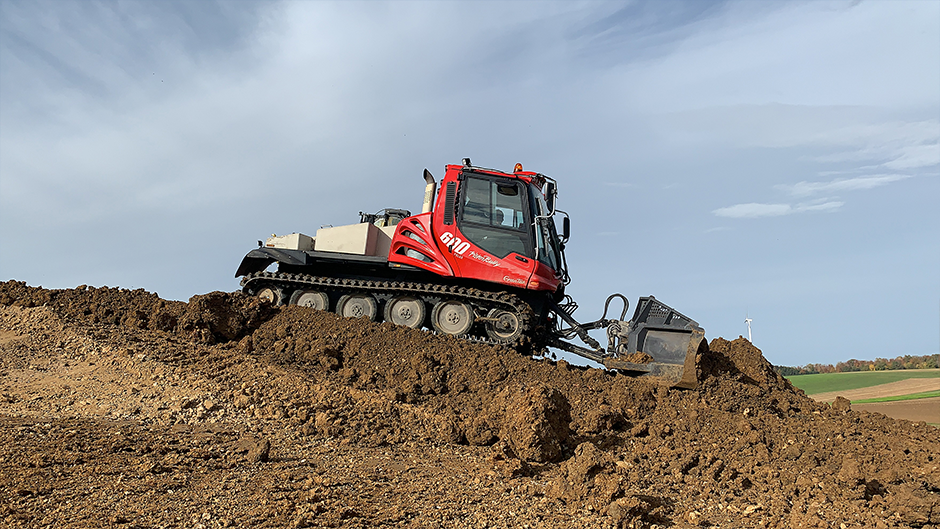 Kässbohrer is ushering in a new era by rolling out the PistenBully 600 Polar GreenTech – a vehicle for snowy and non-snowy seasons alike – and the first GreenTech model with winch!
Every PistenBully has two lives.
After its career in the snow, the PistenBully 600 Polar GreenTech can handle a wide variety of tasks as a used vehicle thanks to its typical advantages – such as enormous thrust and low center of gravity. These tasks include clamping silage for biogas and dairy systems, mowing and mulching in difficult terrain, peat extraction and a wide range of dozing jobs.
Powerful, simple, efficient
Just as the PistenBully 600 Polar set new standards in the snow, the PistenBully 600 Polar GreenTech also stands out as an all-seasons machine on steep slopes and any terrain. At 490 metric HP, it provides maximum thrust at low engine speeds. Thanks to its easy operation, the operator distributes the material with outstanding speed. And the vibrating effect results in optimal compaction of the harvested crop.
A lot of innovation on board
For its diverse range of uses, the new PistenBully 600 Polar GreenTech comes with track widths from 780 mm up to 1648 mm (X-Track, combined and steel tracks). Increased payload thanks to a higher permissible overall weight and ROPS approval of 12.5 metric tons. To make maintenance and servicing easier, the entire vehicle is optimally sealed against plant matter, chafe and dirt.
The innovation: a winch!
The PistenBully 600 Polar GreenTech is the first vehicle to feature an optional 4-ton winch with 360° rotation for applications outside of the snow. This ensures outstanding traction, including for any tasks on steep slopes, such as plowing, mulching and mowing.
Versatility you are used to
The versatile vehicle concept allows you to use various blade models as well as an extremely wide range of implements and attachments such as mulchers, flailmower, tilting containers, forage wagons, lime and fertilizer spreaders, drilling units, hitch plates and much more. This turns the PistenBully 600 Polar GreenTech into a specialist for comprehensive nature care on sensitive environments.