HVO has impressive performance and driving characteristics

90% CO2 reduction – HVO makes it possible: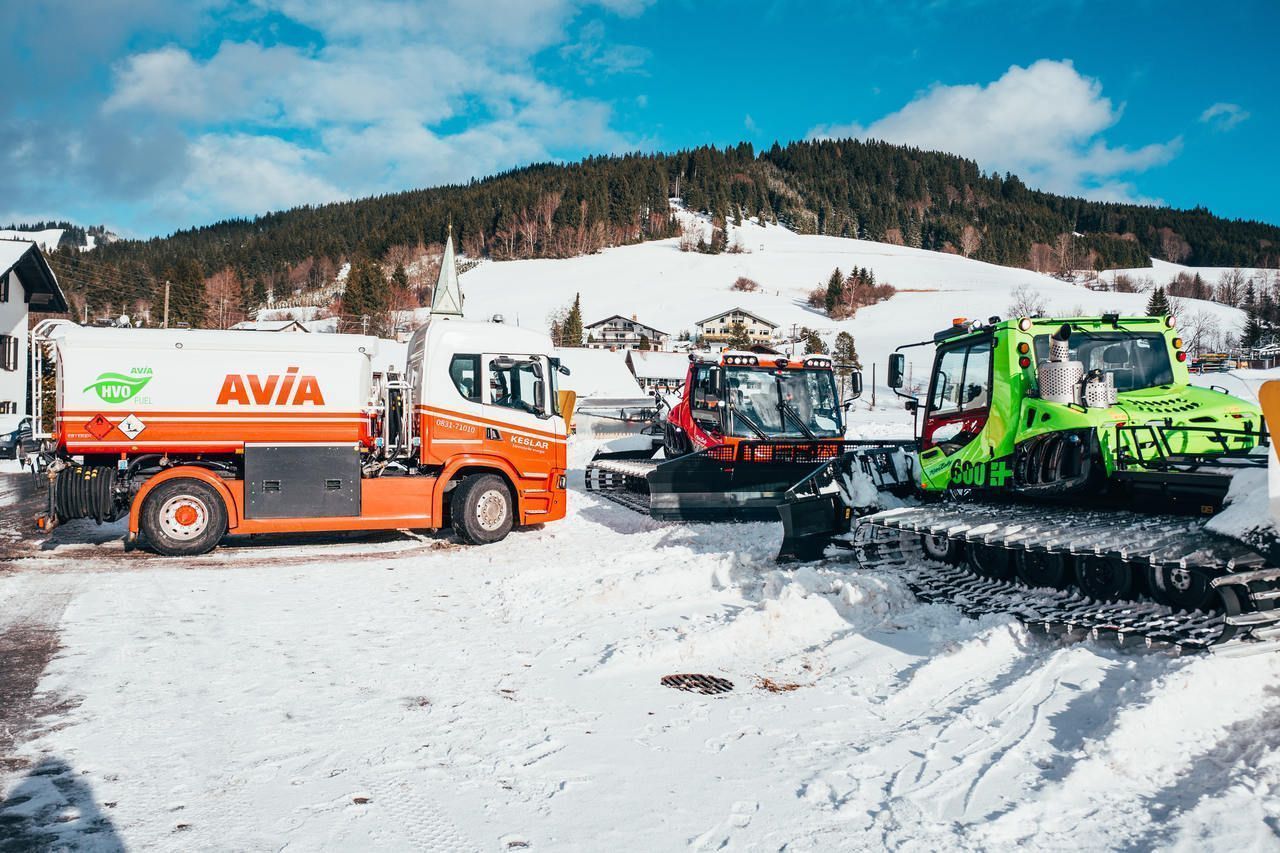 All through the last season, the Jungholz family ski resort in Tyrol used only HVO fuel in its PistenBully fleet. Whether and how the alternative fuel, with its higher power density, proved successful is explained by Arnold Holl, Managing Director of the Jungholz Ski Resort, and Andreas Hausmann, member of the management board of KESLAR GmbH.
Kässbohrer:
Mr. Holl, you have operated the entire PistenBully fleet of 3 vehicles with HVO for one season in Jungholz. By now you have also carried out corresponding evaluations. What are your conclusions?
Arnold Holl:
Basically, we are very satisfied with the performance of this alternative, clean fuel. As hoped, I can say that it had equally good behavior compared to conventional diesel and we did not observe any limitations in performance and driving characteristics. The change was made without any problems at all. In any case, the engine power corresponds to that when normal diesel is used; no degradation was observed.
Kässbohrer:
How did the guests respond to this test?
Arnold Holl:
Particularly at a smaller ski area such as Jungholz, the guests – which are predominantly families – appreciate the topic of sustainability more and more. That is why I believe that such a commitment can absolutely be an argument in favor of choosing a vacation destination. Guests occasionally approached us to learn about it because they have read the information about this alternative fuel on our website.
Kässbohrer:
How did supply and logistics function with HVO?
Arnold Holl:
Without any problems! Since HVO can be blended with normal diesel without any complications, we always simply have our tanks filled here with HVO – without having to clean them first.
Kässbohrer:
What do the results of this season-long test mean for the future of HVO in Jungholz?
Arnold Holl:
If a decision were to be made only with respect to environmental considerations, then there's no question I would decide to continue using HVO. Last season, however, it was about 10% more expensive than conventional diesel. But now that the fuel prices are changing drastically, perhaps the tide will turn! We will observe this situation and make a decision in the course of the coming months that will take into account the environmental factor as well as the cost factor.
Kässbohrer:
Mr. Hausmann – what is your assessment of the topic of price from the perspective of the fuel provider?
Andreas Hausmann:
HVO is currently pegged to the price of diesel. This has considerably more advantages than disadvantages for the producers as well as for the end users. For example, this reduces the risks when purchasing energy. Likewise, the relief package in Germany over the summer of 2022 also lowers the taxes for HVO. The future price trend for HVO, however, is like looking into the proverbial crystal ball; a serious forecast is not possible at this time.
Kässbohrer:
Availability of HVO is the keyword: Will there be a sufficient amount for the ski areas in Central Europe?
Andreas Hausmann:
To ensure the supply for our customers in the long-term, we procure our quantities in the form of annual contracts with fixed monthly volume planning, supplemented with flexible spot purchases.
From a technical perspective, HVO is the ideal solution for ski areas. In all the efforts to have a smaller CO2 footprint, of course, the economic factor also plays a major role. That is why HVO is attractive primarily in countries with a high CO2 contractual penalty – or in places where the government provides economic offsets through tax relief for the additional costs.
This is HVO:

Chemical structure is identical to that of diesel
Is based on hydrogenated plant and animal waste fat, also without palm oil additive
Down to -10 °C, better low-temperature properties than diesel
90 % less CO₂
Easy blending with diesel
No modification to the engine necessary
Optimized combustion
Less carbon dioxide
Fewer nitric oxides
Fewer fine particles