Kässbohrer Snow World provides all you need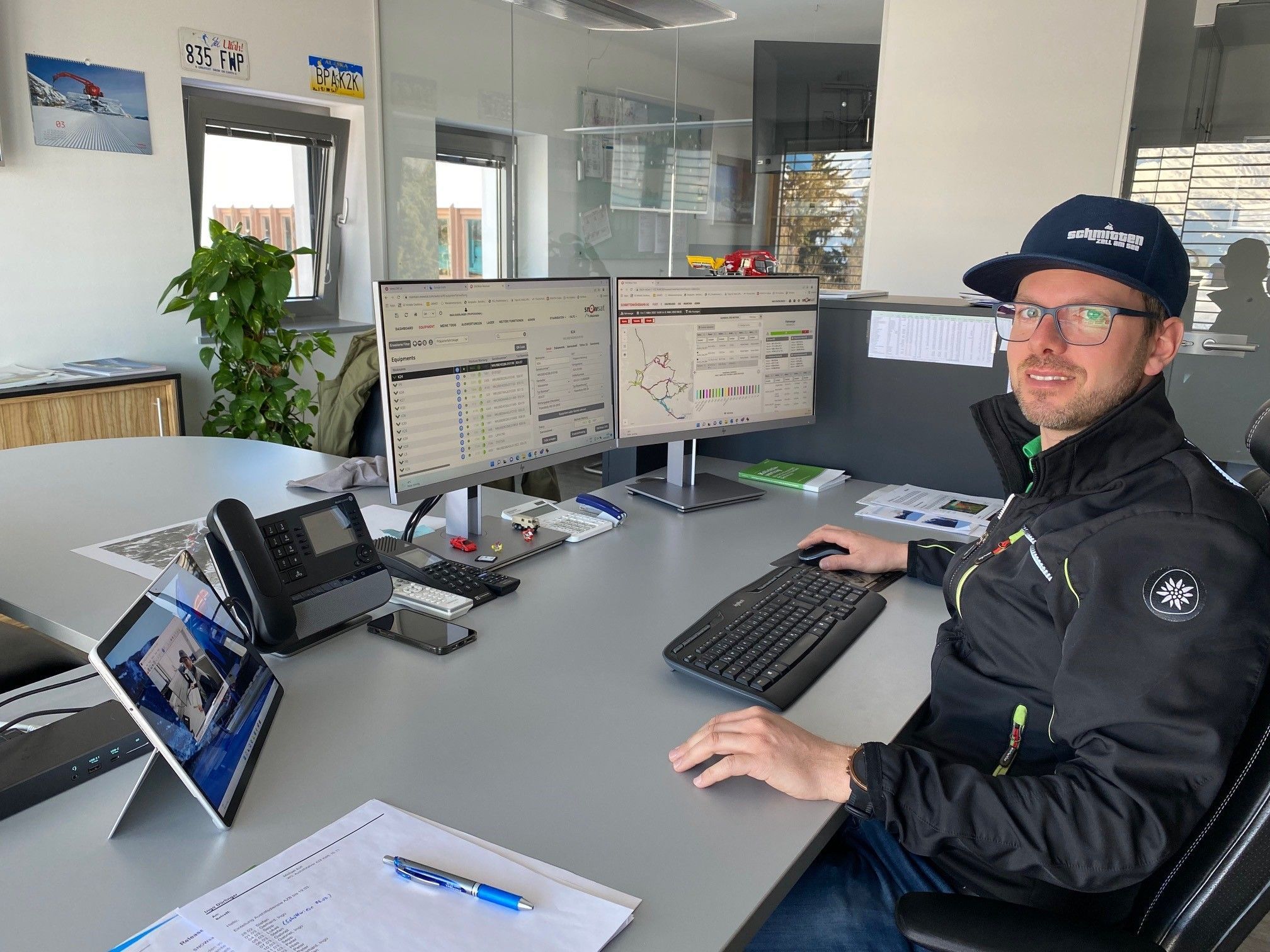 If you watch Ingo Dürlinger as he works, it becomes clear immediately: The department head for all ropeways and slopes of Schmittenhöhebahn AG in Zell am See, Austria is aware of his responsibility. To ensure that the ski area's operations run smoothly and efficiently, he fully relies on the comprehensive package of Kässbohrer Snow World, and thanks to the many closely related products, processes and services, he also has a complete overview of everything.
SNOWsat for more transparency
Cell phone in hand, a quick glance at the screen in the office, using an app to coordinate with the employees in the workshop – and then a call directly from the slope: Ingo Dürlinger is operator, mechanic, engineer and manager all rolled into one. For all his many tasks he relies on support from SNOWsat, which has been in use at Schmittenhöhe since 2020. The main advantages he sees with this are the transparency and the ability to assess the snow depths, fleet status and fuel consumption quickly – at the press of a button from any location. And all in all this yields savings in every respect – on fuel, machine hours and above all, snowmaking as well. He has also already gained experience with SNOWsat LiDAR and the new SNOWsat iX operating system: "I am convinced that SNOWsat LiDAR is the future of snow depth measurement. I often use the system myself to quickly scan wide slopes. This forward-looking snow depth measurement is a completely new technology that opens up entirely new possibilities for us. Understandably, in the beginning there were things that had to be checked and adjusted again for the system to run optimally. In that regard, I also see us operators as obligated to foster further development of the system. I think that only when the system is used continuously can the data and experience gained from this help and be incorporated into the development work."
PRO ACADEMY: Good operators make good slopes
At the same time, registration for PRO ACADEMY training courses began in earnest. Initially the courses were primarily online, but participants have also had the option of taking in-person courses ever since 2021. "Operator training courses used to be an absolute exception.
For 2 years now they have been a permanent fixture of our training program. Each new operator is trained in-house and through the PRO ACADEMY (theory before the first drive and practice in the first weeks of work). Even experienced operators further their education at regular intervals with the PRO ACADEMY. "We wanted to set another milestone with regard to digitalization, environmental management, optimization of workflows and quality assurance." It all works out: "The training courses increase the sense of responsibility of the operators. They receive training not only in how to handle the equipment, but also in the theory of snow as a medium. And a conscientious approach to work also contributes to conservation of resources. It's just too bad that the trainers – at least at the moment – are booked solid and there is not much flexibility for registering!"
What counts is the overall package
Schmittenhöhe and PistenBully – a partnership from the beginning: The first vehicle, a PistenBully 145 from 1969, is currently being restored. To this day, the majority of the fleet of 19 snow groomers is red. And the trust is unbroken: "We can always rely on the full support of the service team – whether through customer service in Kuchl, Austria or the team from Laupheim, Germany." For example, if a SNOWsat ever gets stuck somewhere, then we create a ticket and can count on a prompt response."
Regular users save a lot
Looking back, would he do anything differently? "No, quite the opposite. Our experience from recent winters has shown that we made the right investments. Using the various solutions from a single source pays off in many ways: in quality improvement and quality assurance, generally in digitalization, with support for EMAS certification (certified environmental management system) – and above all, of course, in the conservation of resources and the associated reduction of emissions. Even if it is difficult to make concrete before-and-after comparisons due to the yearly fluctuations in season lengths and weather conditions, in general a decrease in consumption can definitely be noticed."