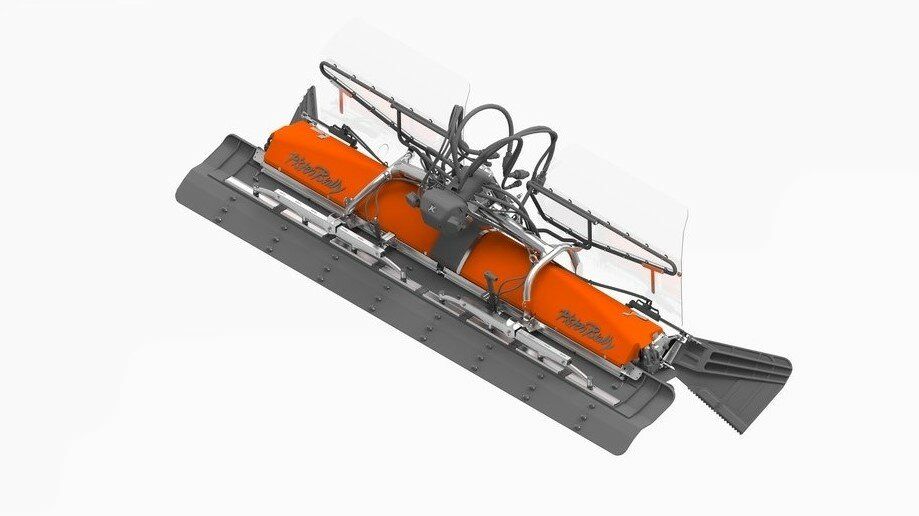 The AlpineFlexTiller impresses with outstanding performance in all snow conditions.The tiller halves can be easily locked hydraulically from the operator's cab. The finishing outrigger ensures perfect alignment with the terrain by means of the "windscreen wiper system" and the large protector unit prevents snow from finding its way onto the tiller or the finished parts of the slope. So the end product is a perfect slope.
Best tilling result
The optimum shafts are responsible for the snow preparation and for transport within the tiller box. In addition, a large tiller pump ensures optimal rotational speed and perfect torque for the AlpineFlexTiller even in the most difficult operating conditions. The powerful shock-absorbers guarantee the tiller's even contact pressure. The standard camera on the tiller provides an optimal view on the slope thanks to the LED headlights – even at night.
Side flaps
The hydraulically folding side flaps prevent the build up of side embankments and ensure a perfect transition in the case of overlapping grooming. The side flaps are easy to align using the adjustable hydraulic cylinder with constant contact pressure .
Easy servicing
Easily accessible hydraulic valves on top of the tiller make servicing easier and simplify retrofitting , e.g. of track setters. The stable design of the shafts and the tiller teeth of high-strength fine-grain steel ensure lower wear and tear.
Your contact person can help