300 Polar greentech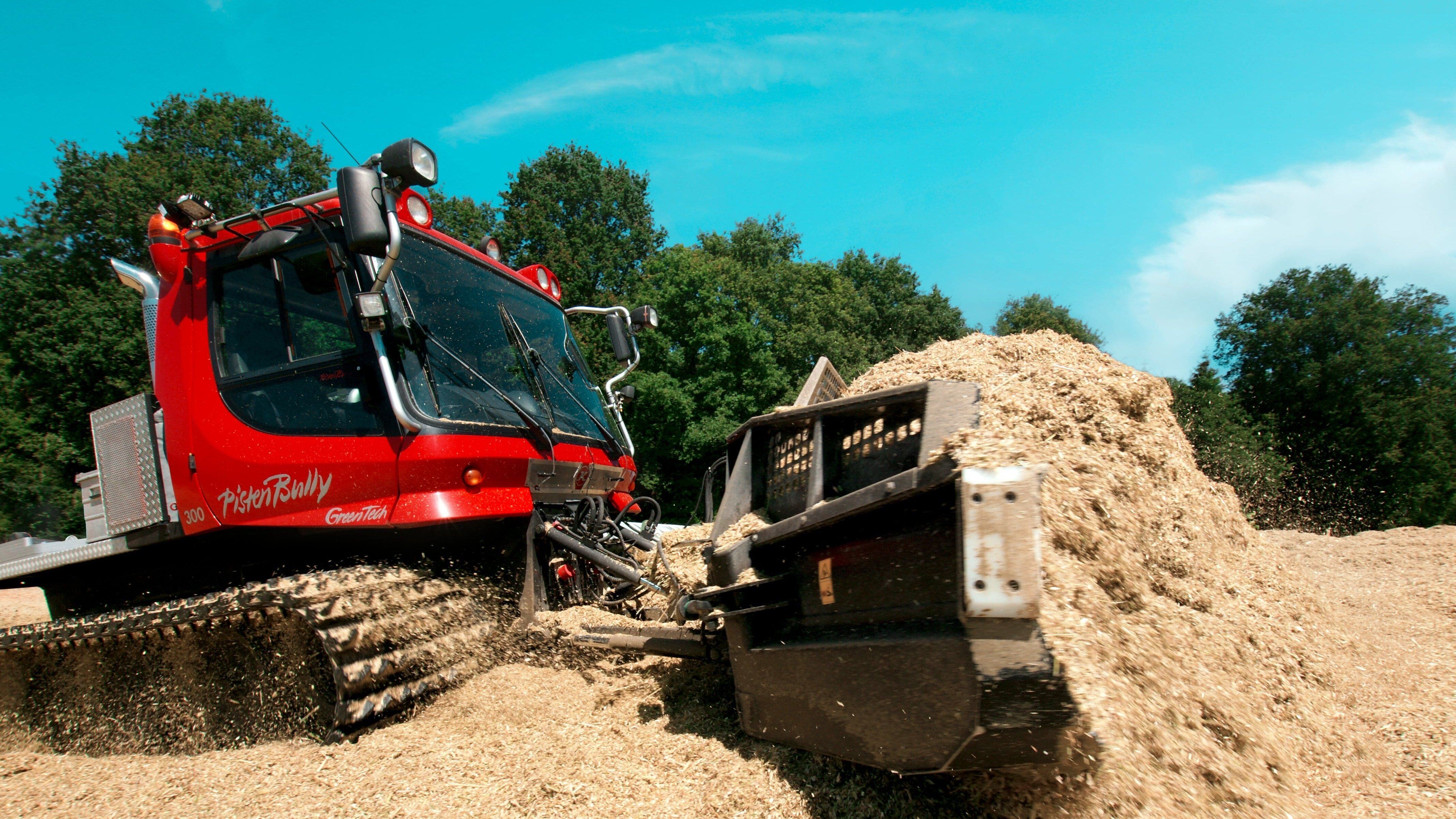 Rising to every challenge
The all-rounder for working 365 days a year
Powerful and reliable engine
Robust Mercedes diesel engines ensure reliable and economical working. A concept in which economy and ecology go hand in hand. The OM 457 LA with 430 hp and a displacement of 12 litres reaches its maximum torque of 2,000 Nm at only 1,200 rpm.
Hydrostatic drive
The hydrostatic drive offers a level of operating convenience not often found on work vehicles. The standard circuitry lubrication system isolates the shaft seals against external influences.
Centralized lubrication system
, The labyrinth lubrication system automatically supplies lubricant to the relevant components at specific intervals.
Wide range of attachments
The PistenBully GreenTech is equipped with a separate auxiliary pump with a flow capacity of up to 260 litres at 406 bar to drive various attachments.
Simple and precise steering
A semi-circular steering wheel ensures reliable and precise steering. Auxiliary equipment on the front or rear can be operated comfortably with an ergonomically designed multi function joystick.
Stay cool
The powerful 3-in-1 intercooler for charge air, water and hydraulic oil ensures optimum cooling at temperatures of up to 40 °C. Chafe is automatically removed by the temperature-controlled reversible fan.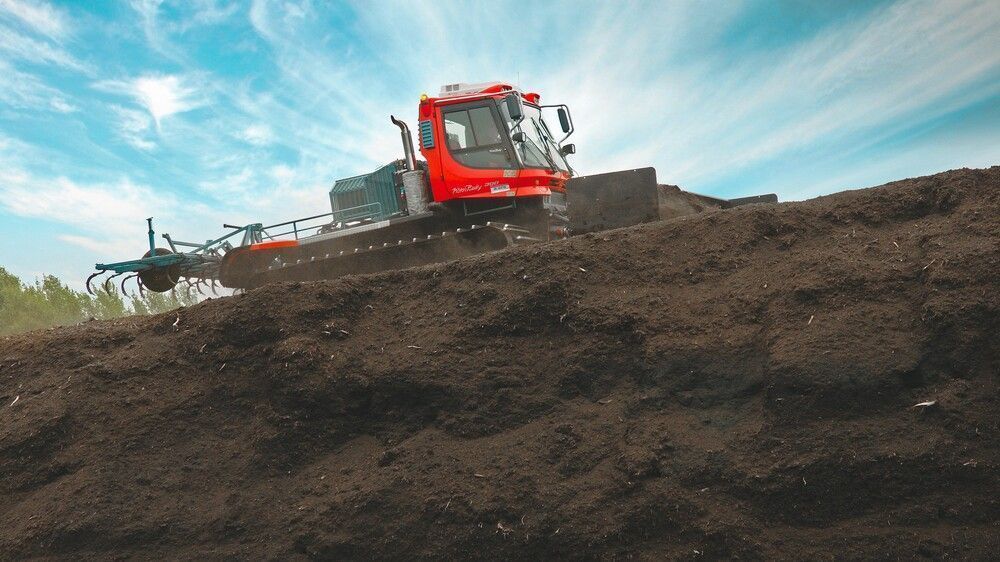 "

For optimum efficiency and approx. 750

operating hours/year, I use my PistenBully

GreenTech not only for clamping silage but also

for landscape maintenance. The quick-change

system with its versatile movement options is

ideal in combination with the forestry mulcher,

e. g. for grinding tree stumps.

Fields of application
Versatile applicability of the PistenBully 300 Polar GreenTech
Silage clamping
The PistenBully GreenTech is the ideal vehicle for clamping silage. With its amazing agility, its unparalleled thrust and its precision, the PistenBully GreenTech operates far more efficiently than wheeled vehicles. An investment that pays off in the long term!
And the PistenBully GreenTech has even more to offer: The low centre of gravity allows the PistenBully GreenTech to drive along at an angle, as it prevents the vehicle slipping or toppling over to one side, thus offering maximum safety for the driver. In addition, its climbing power allows the building of higher silo superstructures than with conventional wheeled vehicles.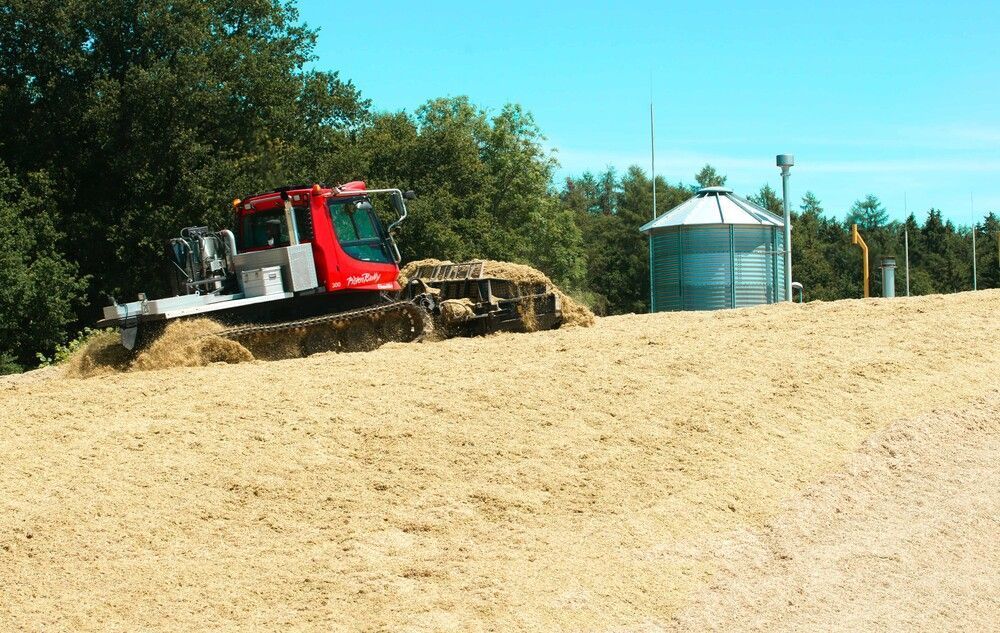 Mowing and mulching
PistenBully GreenTech means extremely low ground pressure with high manoeuvrability. And that makes the PistenBully GreenTech the perfect vehicle for mechanical mowing and mulching in a wide range of sensitive environments. The vehicles work carefully and precisely
on hillsides
in ecologically valuable nature reserves, e. g. wetland meadows
in biotopes or restored heathland/fens
in inaccessible woodland areas
In short: The PistenBully GreenTech is the specialist machine for comprehensive landscape management!
Harvesting peat
The PistenBully GreenTech is a universal machine for peat excavation and can be used for the preparation of both milled and block peat. Its strengths include the exposure and distribution of wet peat and the renaturation and maintenance of old excavation sites. Biotope management in these reclaimed areas is becoming increasingly important. Here the PistenBully GreenTech offers unique advantages, thus contributing to the conservation of the plant and animal populations typical for these areas and to the preservation of particularly endangered species. It also helps to protect, improve and reclaim their natural habitats, restoring the unique character, diversity and beauty of the landscape.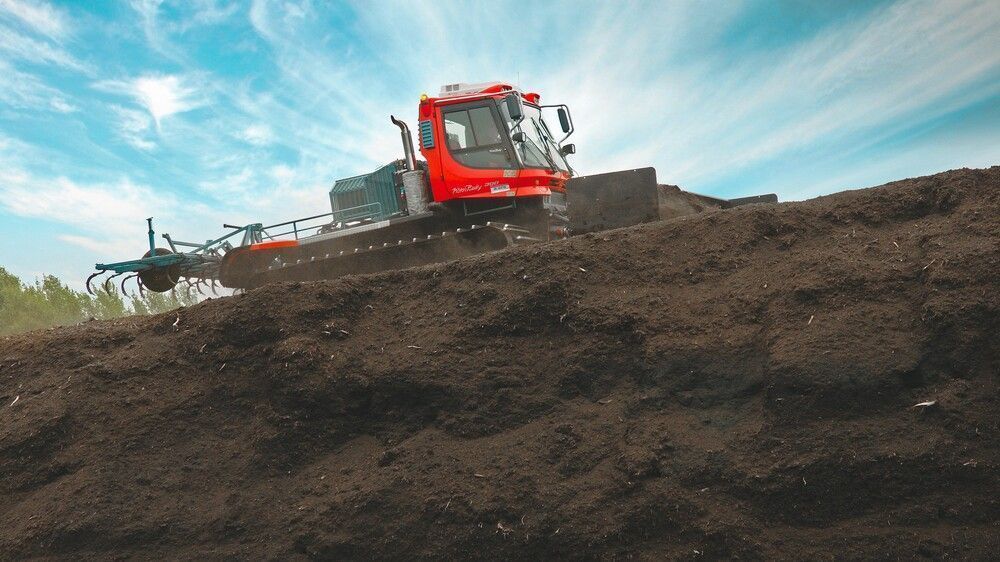 Large push projects
Above and beyond its use in winter, its strength and versatility make the PistenBully GreenTech suitable for an increasing number of applications on the toughest gradients of up to 100 %. For example: with a laser-controlled blade, the PistenBully can push layers of gravel both uphill and downhill with a tolerance of up to +/- 1 cm. And in the same process, rear-mounted compacting plates compact the material. This enables you to achieve production rates of up to 6,000 m² per day.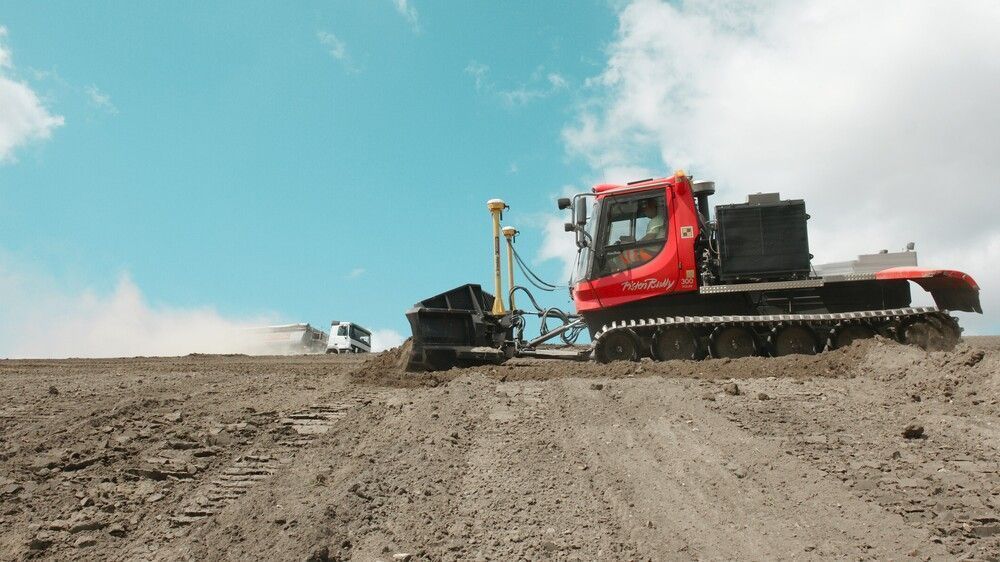 Technical Data
PistenBully 300 GreenTech
PistenBully 300 Polar GreenTech
Engine
Type
Mercedes Benz OM 926 LA
Mercedes Benz OM 457 LA
Cylinders
6
Displacement
7.200 cm³
11.970 cm³
Power output (ECE)
240 kW / 330 PS
315 kW / 430 PS
max. torque
1.300 Nm @ 1.200 – 1.600 U/min
2.000 Nm @ 1.200 U/min
Fuel consumption
from 11 l/h
from 13 l/h
Fuel tank capacity
190 l
210 l
Track width
2.300 mm
2.400 mm
PistenBully 300 GreenTech
PistenBully 300 Polar GreenTech
Engine
Type
Mercedes Benz OM 926 LA
Mercedes Benz OM 457 LA
Cylinders
6
Displacement
7,200 cc
11,970 cc
Power output (ECE)
325 hp
424 hp
max. torque
1,300 Nm @ 1,200 – 1,600 rpm
2,000 Nm @ 1,200 rpm
Fuel consumption
from 2.9 gal/h
from 3.4 gal/h
Fuel tank capacity
50.2 gal
55.5 gal
Track width
2,300 mm
2,400 mm
pistenbully 300 polar GreenTech in action
Thinking about tomorrow today.
That's exactly what we've been doing since yesterday.
The topic of sustainability has a long tradition at Kässbohrer. It is firmly anchored in our corporate strategy and shows the demands we make on ourselves: To act responsibly with future generations in mind. To think holistically. Leading the way with innovative solutions to set new standards and help shape the future.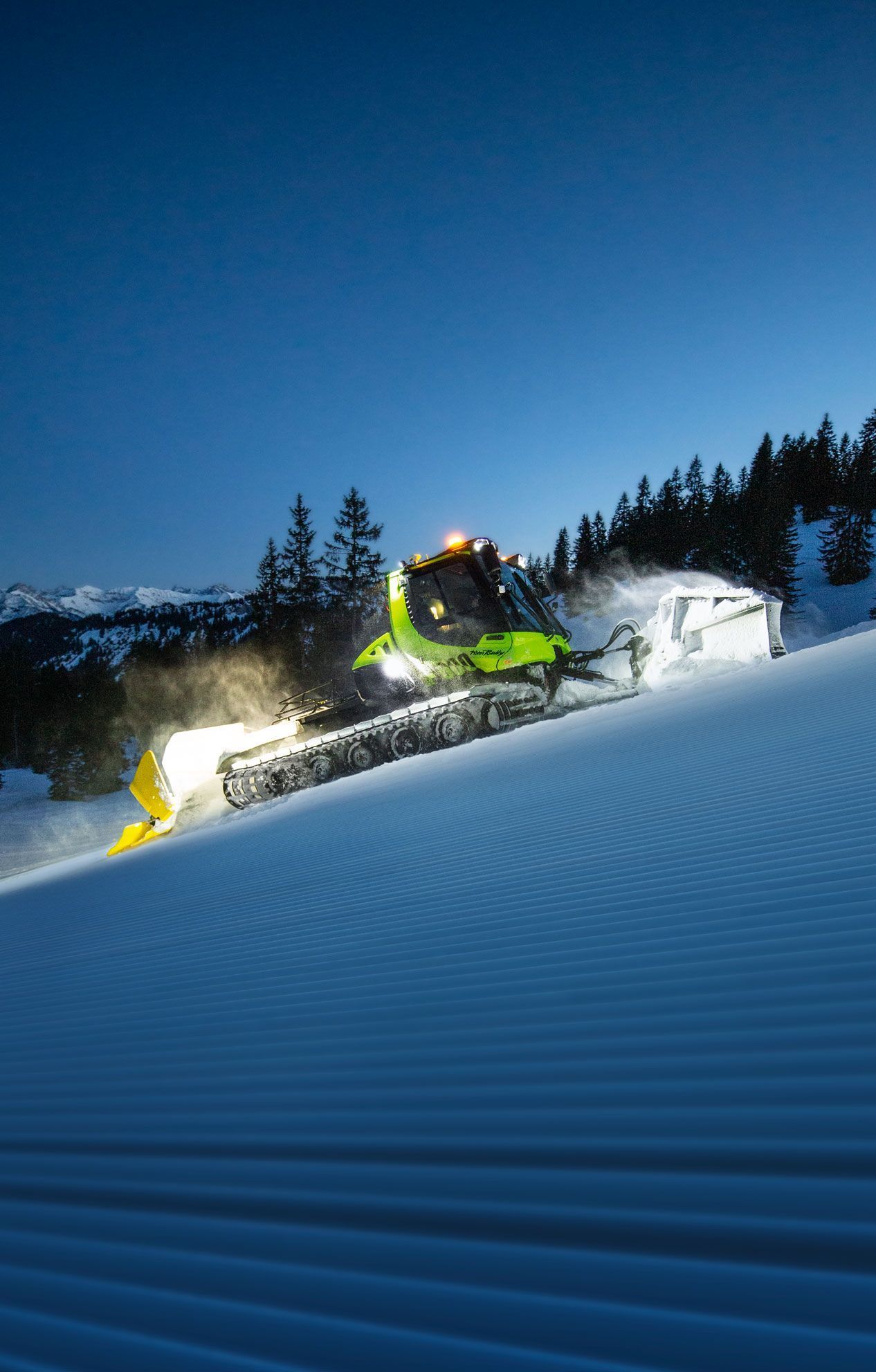 Contact
Your contact person helps