600 Polar greentech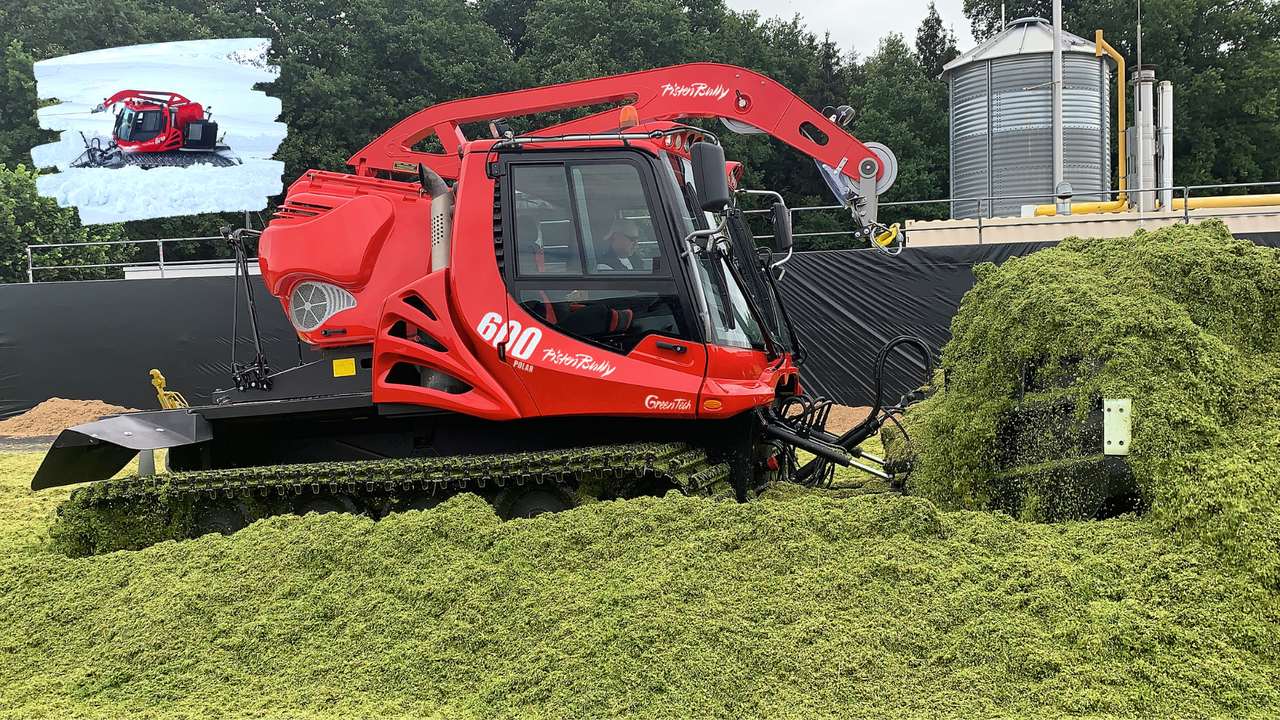 first GreenTech model
with winch
Every PistenBully has two lives
After its career in the snow, the PistenBully 600 Polar GreenTech can handle a wide variety of tasks as a used vehicle thanks to its typical advantages – such as enormous thrust and low center of gravity. These tasks include clamping silage for biogas and dairy systems, mowing and mulching in difficult terrain, peat extraction and a wide range of dozing jobs.
Powerful, simple, efficient
Just as the PistenBully 600 Polar set new standards in the snow, the PistenBully 600 Polar GreenTech also stands out as an all-seasons machine on steep slopes and any terrain. At 490 metric HP, it provides maximum thrust at low engine speeds. Thanks to its easy operation, the operator distributes the material with outstanding speed. And the vibrating effect results in optimal compaction of the harvested crop.
A lot of innovation on board
For its diverse range of uses, the new PistenBully 600 Polar GreenTech comes with track widths from 780 mm up to 1648 mm (X-Track, combined and steel tracks). Increased payload thanks to a higher permissible overall weight and ROPS approval of 12.5 metric tons. To make maintenance and servicing easier, the entire vehicle is optimally sealed against plant matter, chafe and dirt.
The innovation: a winch!
The PistenBully 600 Polar GreenTech is the first vehicle to feature an optional 4-ton winch with 360° rotation for applications outside of the snow. This ensures outstanding traction, including for any tasks on steep slopes, such as plowing, mulching and mowing.
Versatility you are used to
The versatile vehicle concept allows you to use various blade models as well as an extremely wide range of implements and attachments such as mulchers, flailmower, tilting containers, forage wagons, lime and fertilizer spreaders, drilling units, hitch plates and much more. This turns the PistenBully 600 Polar GreenTech into a specialist for comprehensive nature care on sensitive environments.
It's THE combination: Economically unbeatable in summer and winter
Mulching meadows in summer and creating slopes, small parks or cross-country ski trails in winter: the PistenBully 600 Polar GreenTech does both. This makes it the ideal year-round machine. It could hardly be more economical!
Unbeatable in special operations
PistenBully GreenTech all-terrain vehicles are designed for the toughest applications in difficult terrain. Robust diesel engines ensure reliable and economical operation, and the hydrostatic drive offers a level of convenience not often found on work vehicles. Reliable and precise steering with a semi-circular steering wheel. Single-hand operation of additional equipment. Thanks to their extremely low ground pressure, PistenBully GreenTech vehicles can be used even on sensitive surfaces which will not support wheeled vehicles or where such vehicles cannot be used. The PistenBully GreenTech has a separate power pump, fitted as standard, for driving various attachments. Whether it's a matter of transportation, work or mobility, if conventional vehicles cannot be used, the all-terrain specialists at Kässbohrer Geländefahrzeug AG will find a solution for almost any application. PistenBully GreenTech vehicles can be converted for specialist requirements of all kinds yet retain their tried-and-tested technical functionality, and there is always a dependable supply of original spare parts.
Tracks for every purpose
The wide range of different tracks and special features such as extreme climbing ability, enormous pushing power, low fuel consumption and reliability make PistenBully suitable for a wide variety of special applications. Wide tracks apply pressure so evenly to the ground that they can drive on soft surfaces without sinking in. With special narrow tracks, they have exactly the opposite effect - for example in silage applications: the vibrating effect ensures optimum compaction here.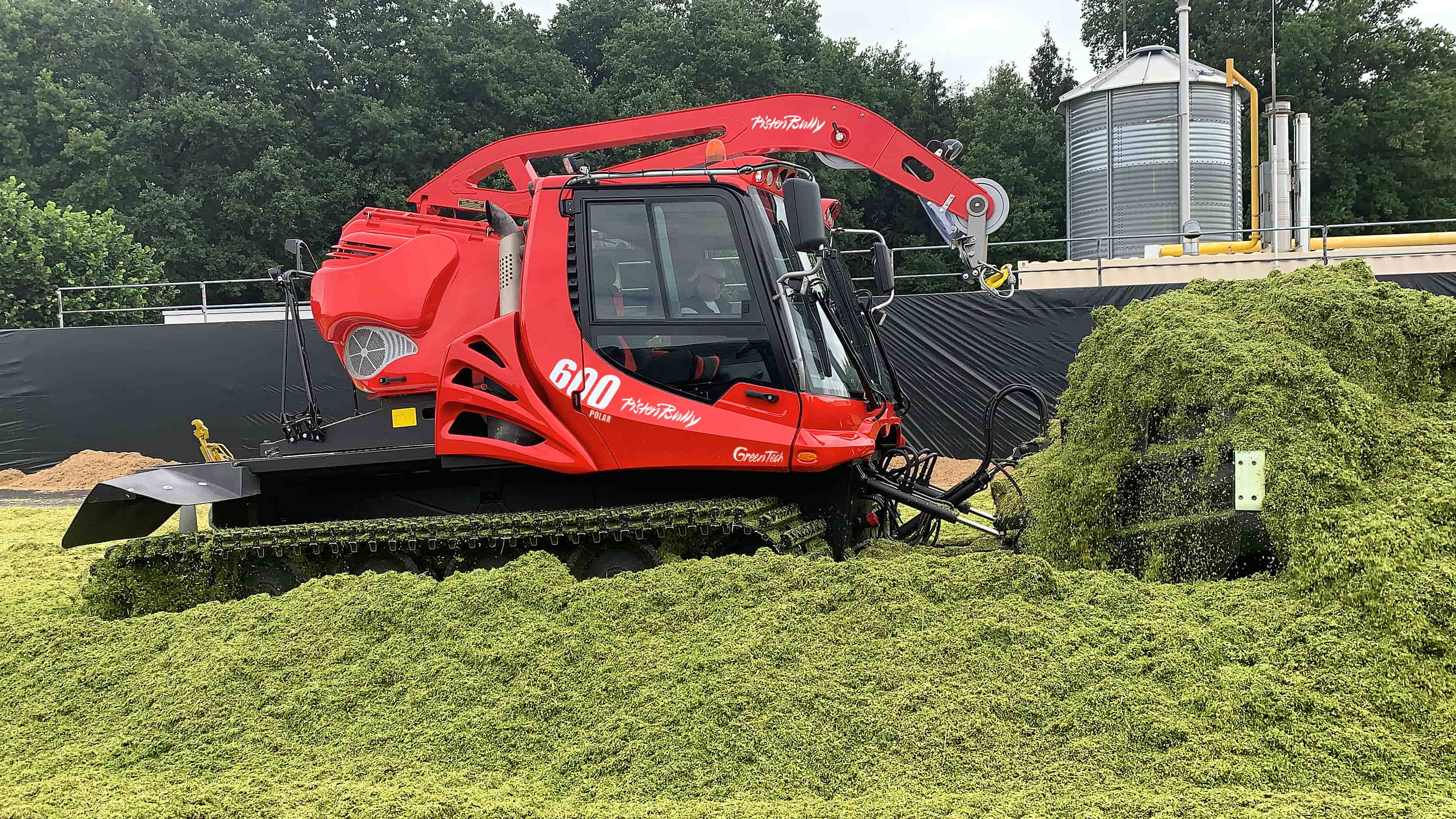 "

In the 2020 harvest season, we pushed and compacted approx.

43,000 tons of chopped material (wholecrop silage and corn)

with the PistenBully 600 Polar GreenTech. The machine convinced

with its enormous "thrust", reliability and easy handling.

Due to the larger cab, allround vision and driver comfort are

better.

areas of operation
Versatile applicability of the PistenBully 600 Polar GreenTech
SNOW
It's THE combination: Economically unbeatable in summer and winter
Mulching meadows in summer and creating slopes, small parks or cross-country ski trails in winter: the PistenBully 600 Polar GreenTech does both. This makes it the ideal year-round machine. It could hardly be more economical!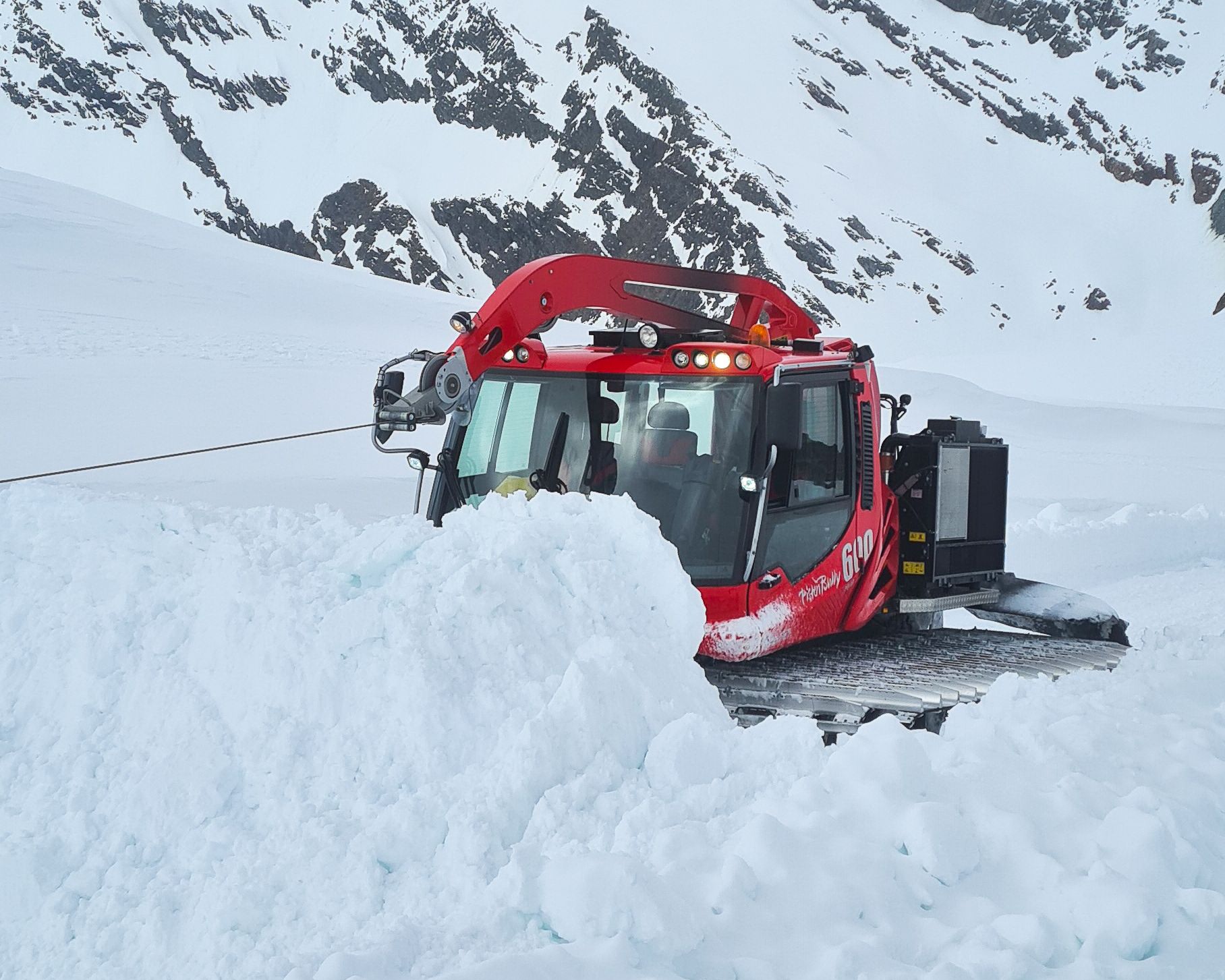 Silage harvesting
The PistenBully GreenTech is the perfect vehicle for harvesting silage. Because of its amazing mobility, its unparalleled thrust and its precision the PistenBully GreenTech operates with very low fuel consumption - much more efficiently than wheeled vehicles.
An investment that really pays off over the long term! And a PistenBully GreenTech has all these advantages too: Its wide X-track chains ensure it has no problems moving forwards, allowing it to build higher and steeper silo superstructures and to compact the silage material using the weight of the vehicle and the chain design – much better than a wheeled vehicle could manage. By repeatedly driving over an area with track`s running wheels, a shudder effect is created which compacts the silage material even more, helping to prepare this perfectly for storage. Another advantage: The PistenBully GreenTech low centre of gravity allows it to drive along at an angle, preventing it from sliding off or toppling over. Optionally, the PistenBully GreenTech can also be equipped with a 3-point front or rear 3 Point Linkage. With this and an additional PTO drive, other agricultural and municipal attachments can be operated.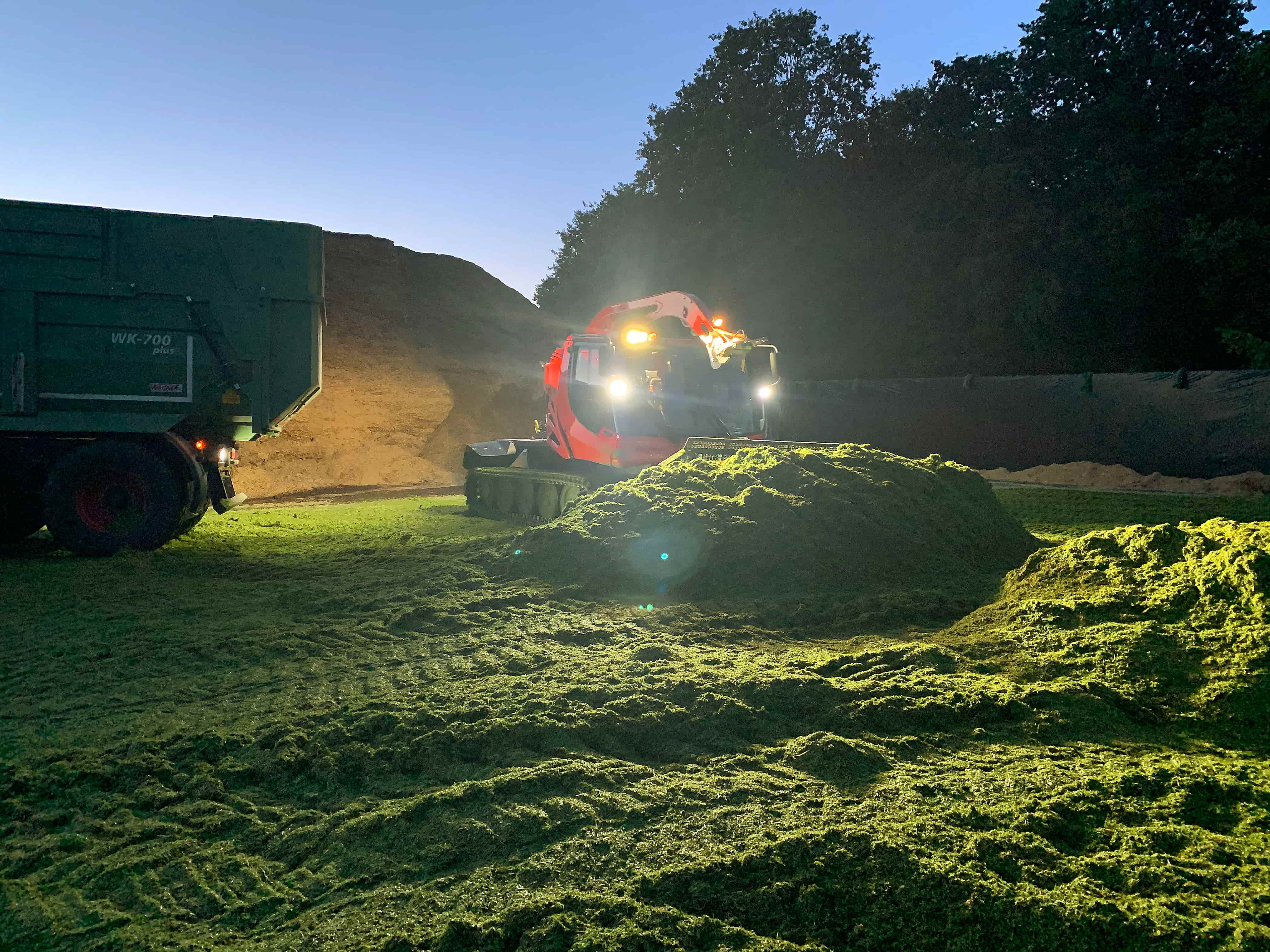 mowing and mulching
PistenBully GreenTech's have even more to offer: With the standard front hitch system or optional 3-point front linkage, various mowing and mulching implements can be attached. In this equipped version, they are used under the most difficult conditions in ecologically valuable nature conservation areas such as wet meadows, biotopes, peatlands or re-naturalised heath areas as well as Reed harvesting. With high horsepower and KW they can power heavy duty attachments to allow for mulching work in impassable forestry areas.
The extremely low ground pressure makes the PistenBully GreenTech ideal for working in sensitive landscapes. However, it also carries out forestry work with heavy mulchers under extreme conditions and on slopes. New to the PistenBully 600 Polar GreenTech, it is supported by the optional 4-ton winch with 360° rotation, which additionally increases traction when required. PistenBully GreenTech can be converted for any special requirement.
Modified air intake and hydraulic oil cooling. Various track designs for any terrain. Maintenance and service-friendly sealing of the entire vehicle against dirt. Fully synthetic high-performance hydraulic oil with biodegradability according to CEC standard.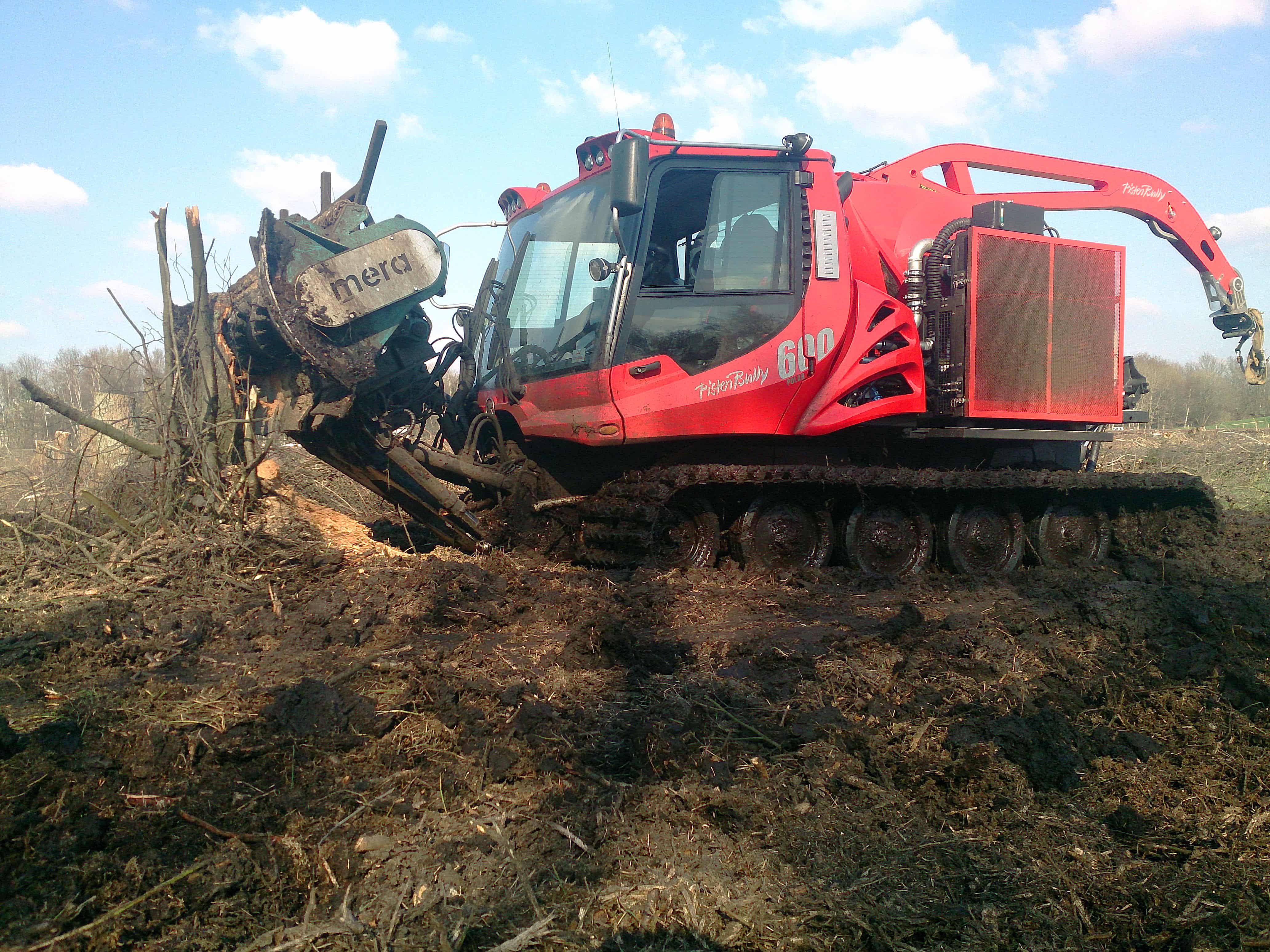 harvesting peat
The PistenBully GreenTech is a universal machine for peat excavation and can be used both for milled peat excavation and block peat preparation. Its strengths include wet peat exposure and distribution, as well as renaturation and maintenance of old excavation sites.
The following attachments can be used:
Standard AllWayBlade up to 5.30 m in width
Milled peat blade with high yield steel edges and up to 7 m³ volume
Swathe blade with 60° tilt to spread peat windrows
Peat tillers in various designs
Cultivator for loosening peat layers (up to 7.00 m working width)
Frost cultivator (up to 4.50 m working width)
Mowing and mulching tools for habitat care or to prepare new excavation areas
Trench cutters and peat pilers to build walls
4-ton winch with 360° rotation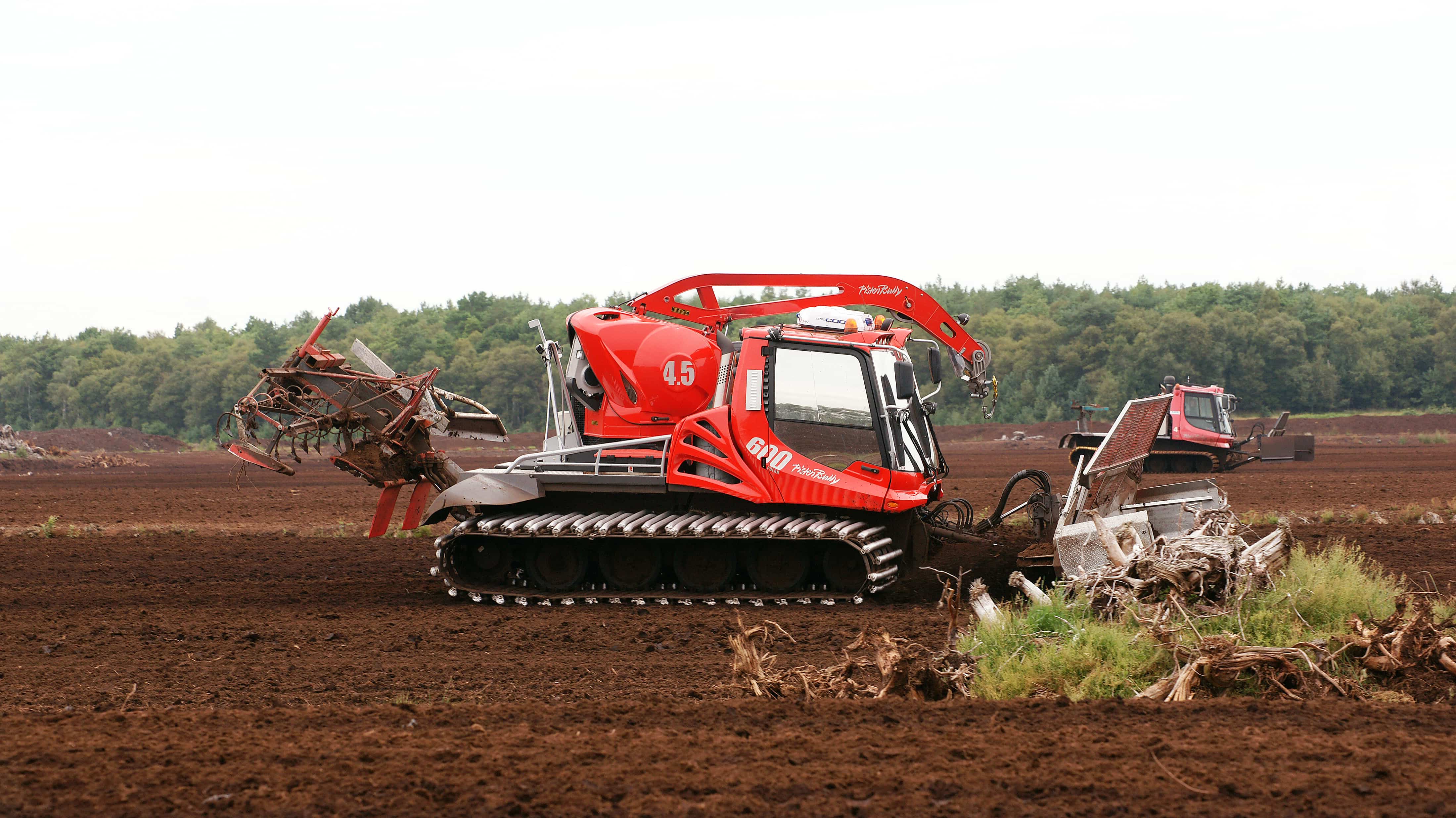 large push projects
Advantages when used in earthworks are the spreading of any kind of loose bulk material. Especially in landfill construction, the rolled gravel can be installed for water retention layers, taking into account the soil pressure and protecting the plastic sealing membrane and the fleece above it.
Or when moving large quantities of sludge in extreme conditions, such as reclaiming marsh land in harbor areas or peat excavation in dry shift process, dumping and distributing and removing silage. PistenBully GreenTech can be used in diverse ways for work in fish and shrimp farms with the help of special attachments and superstructures; to shift and level drained pools; to apply lime for disinfecting or to dig drainage trenches and to prepare the soil. The necessary drive power is produced by a large hydraulic pump. PistenBully GreenTech are also suitable for constructing oyster beds at low tides.
Low ground pressure, thus prompt use
Short waiting times after emptying/draining
In combination with the AllWayBlade very good pushing and levelling properties
Attachment of various other additional implements
Protection when working on slopes via the 4-ton winch and mobile or fixed winch anchor points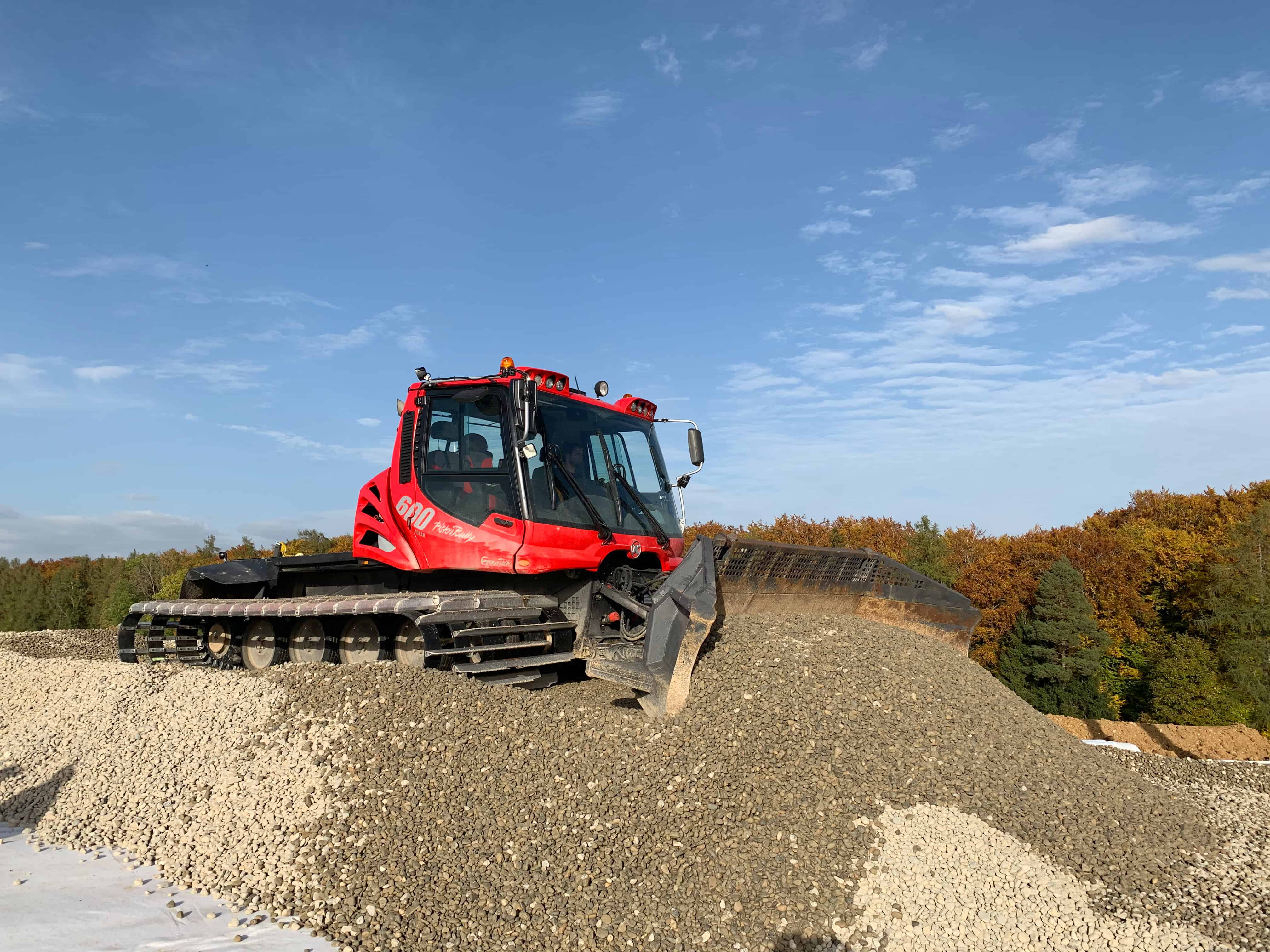 Technical Data
Engine
Type
Mercedes Benz OM 460 LA
Number of cylinders
6
Displacement
12.800 cm³
ECE power rating
360 kW / 490 PS
max. torque
2.200 Nm @ 1.300 U/min
Fuel consumption
from 16 l/h
Tank capacity
300 l
Driving capabilities
Speed
0 – 19 km/h, stepless
Engine
Type
Mercedes Benz OM 460 LA
Number of cylinders
6
Displacement
12,800 cc
ECE power rating
490 hp
max. torque
2,200 Nm @ 1,300 rpm
Fuel consumption
from 4.2 gal/h
Tank capacity
79 gal
Driving capabilities
Speed
0 – 19 km/h, stepless
pistenbully 600 polar GreenTech in action
Thinking about tomorrow today.
That's exactly what we've been doing since yesterday.
The topic of sustainability has a long tradition at Kässbohrer. It is firmly anchored in our corporate strategy and shows the demands we make on ourselves: To act responsibly with future generations in mind. To think holistically. Leading the way with innovative solutions to set new standards and help shape the future.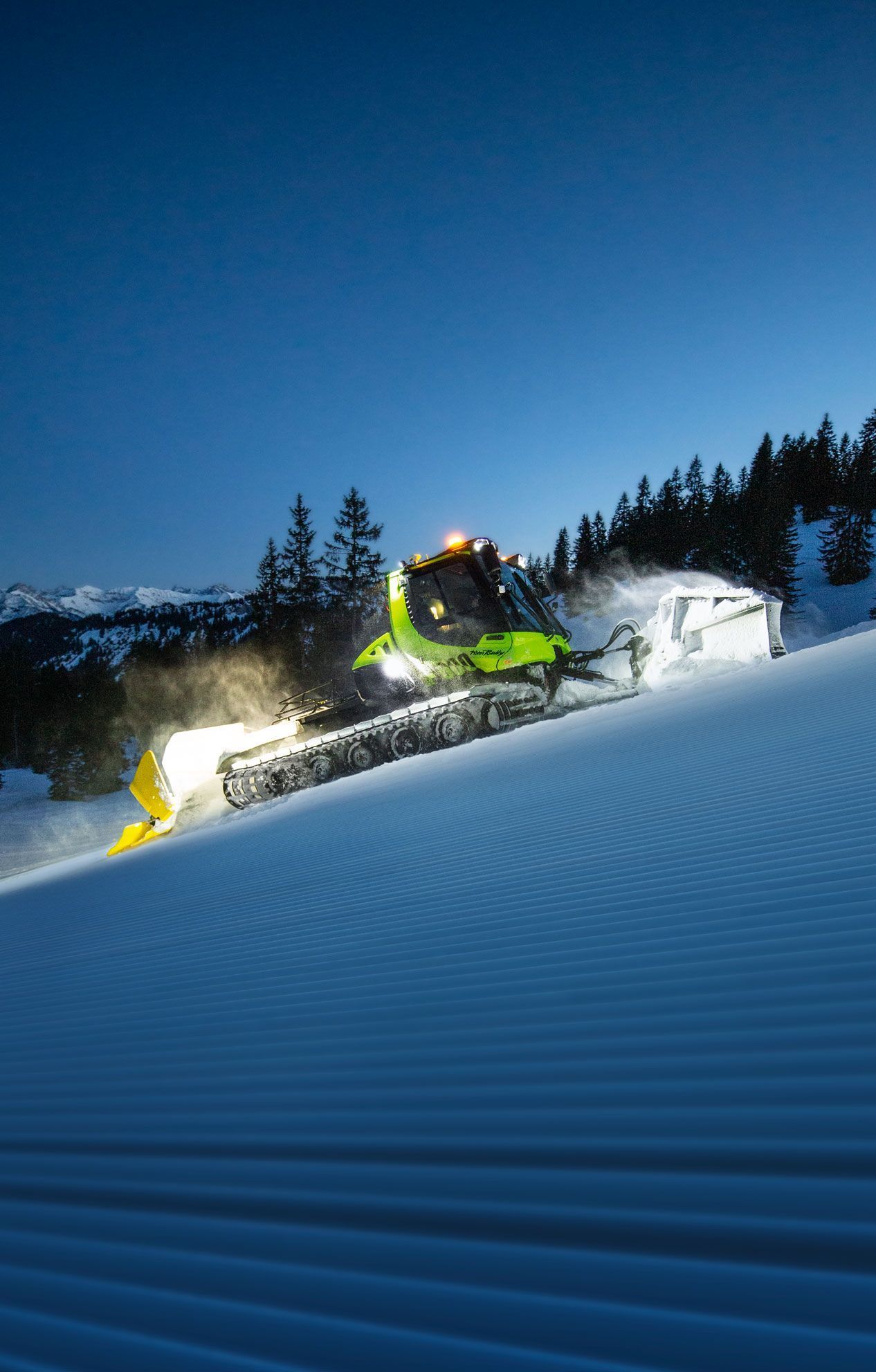 Contact
Your contact person helps