Small, powerful and clean
The all-rounder for cross-country skiing, piste and indoor grooming
Just the way you wanted it. Quality and reliability have remained - the vehicle concept has been completely revised in close consultation with international customers. The result: intuitive operation developed according to the latest ergonomic findings, the most powerful engine in its class, environmentally friendly exhaust technology, the cockpit, the seat and many other practical new developments.
The fundamentally new operating concept, which encompasses the entire operator's workplace, is and remains groundbreaking: The heart of the control panel integrated in the armrest is the 4-axis joystick, with which the blade can be intuitively controlled with one hand in all degrees of freedom.
Brand new is the facelift of the PistenBully 100:
The strongest snow groomer in its class is now even stronger:
16% more torque, a lower engine speed and more fuel tank capacity provide more power, less fuel consumption, lower CO2 emissions and a greater range.
Also new and in series: The assistance system AutoTracer!

Optimized cockpit
For more freedom of movement and practical comfort
Flexible and intuitive operation
Optionally with stick control or a semi-steering wheel
Increased action radius of the AllWayBlade
Makes precise shaping of special features possible
Most powerful engine in its class
Economical and efficient thanks to environmentally friendly exhaust technology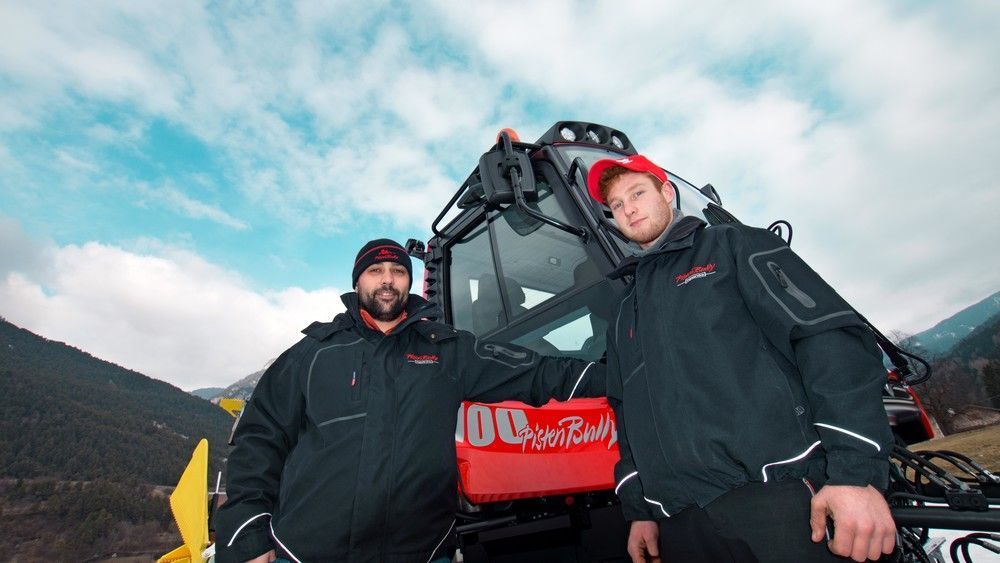 "

the Pistenbully 100 is indispensable for the maintenance of our trails!
Piotr Czaja, Technical Director Kotelnica, Poland

showroom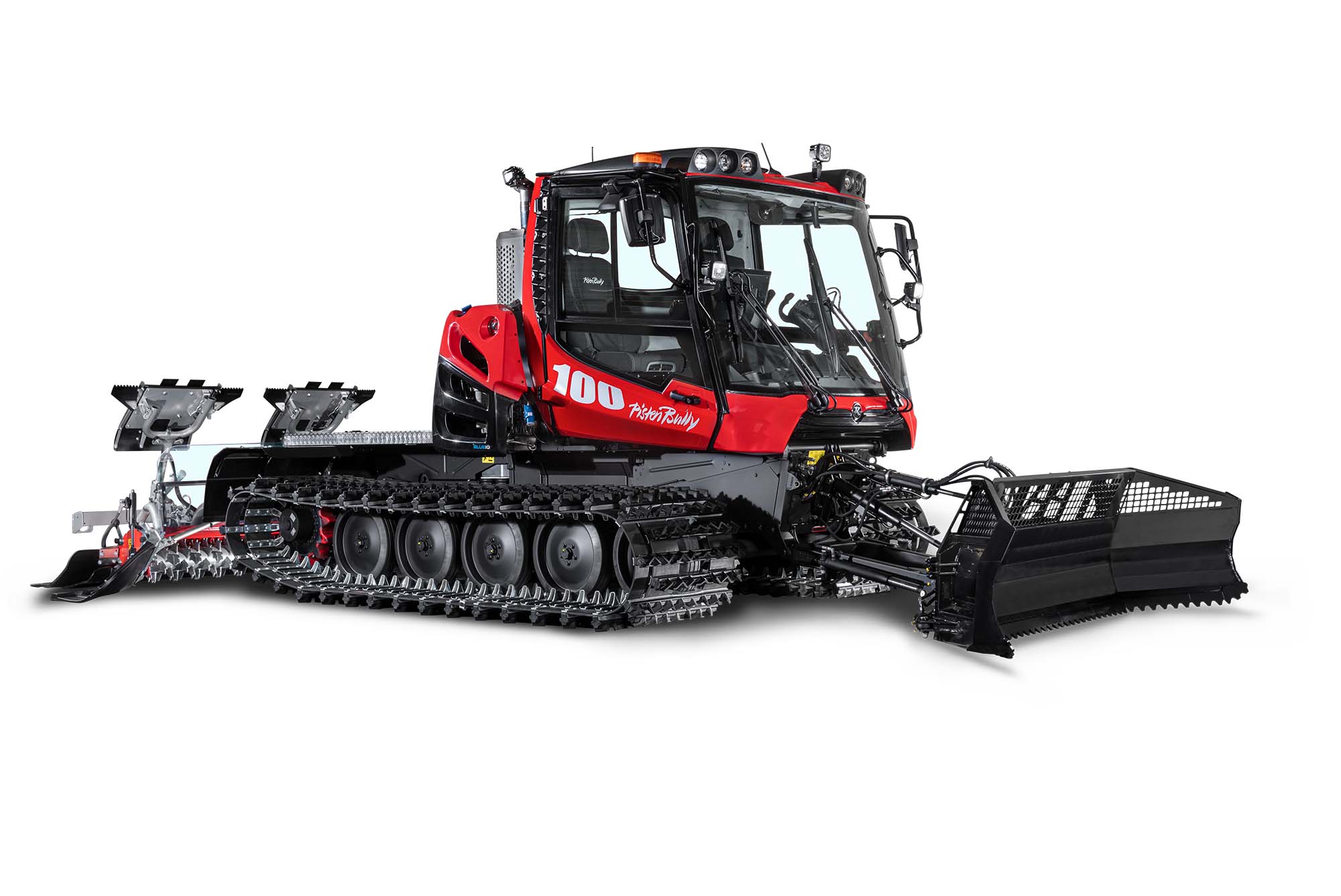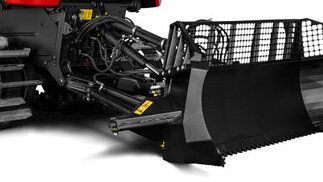 Das längere Schnellwechselsystem bietet eine bessere Sicht auf das AllWayBlade. Ein neuer Hubzylinder ermöglicht ein größeres Bewegungsspektrum.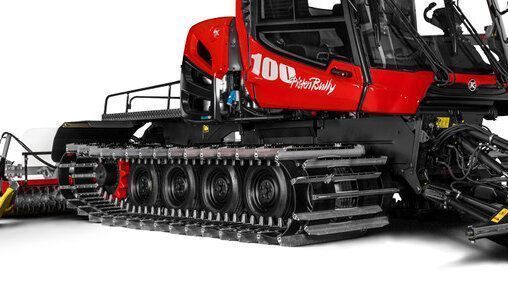 Stable and low-maintenance: The PistenBully 100's undercarriage is characterized by excellent climbing ability thanks to 4 running axles plus higher payloads as well as better service accessibility. Automatic track tensioning reduces wear.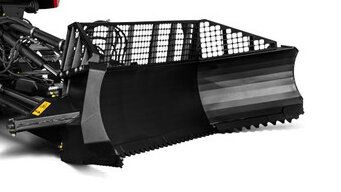 A taller snow shield and extended working widths for more snow volume. A synchronous control of the side wings with reinforced bearings and simultaneous control of the tiller and blade via joystick.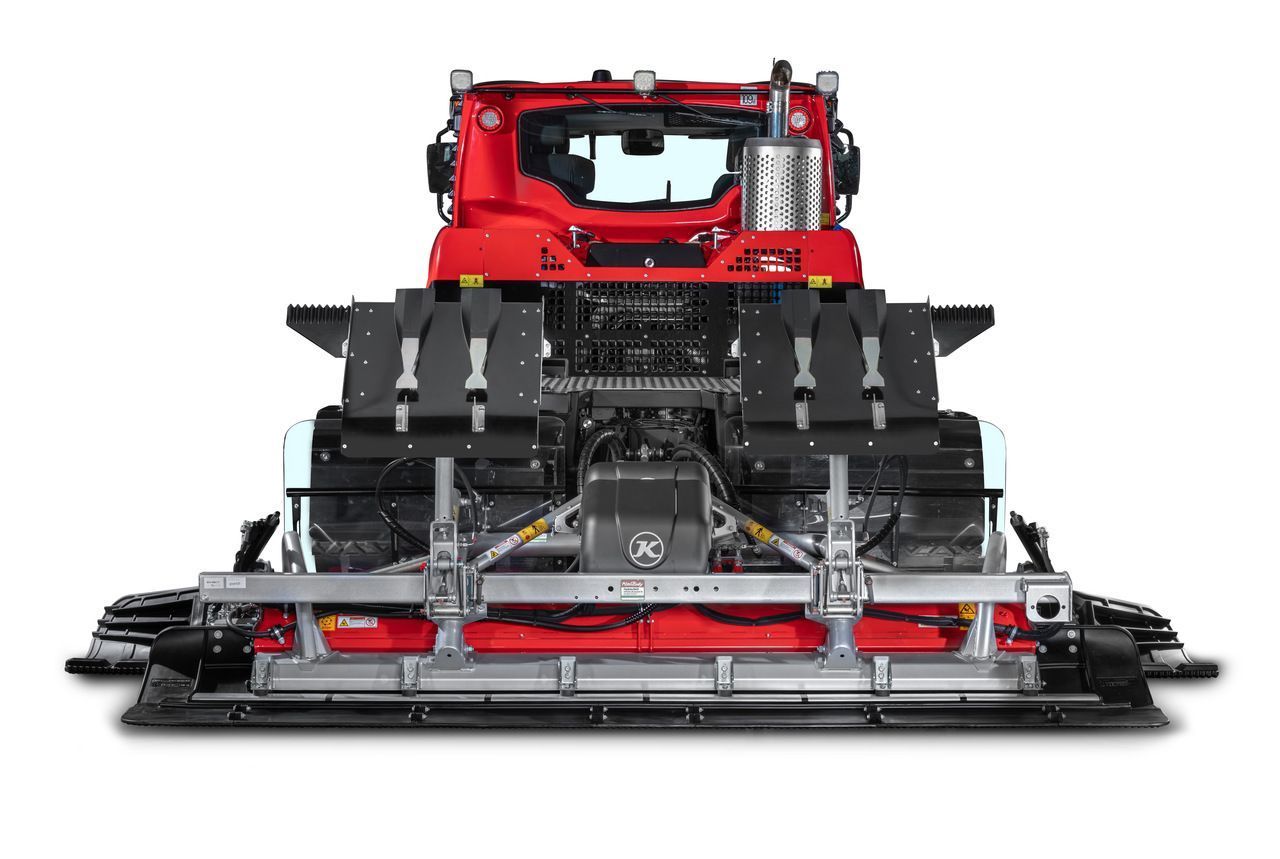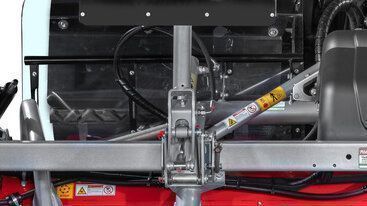 Efficient work due to wider tiller shaft and higher working width. More tiller teeth produce a better track pattern. Tilling depth and contact pressure of the snow tiller and track pans can be adjusted independently of each other.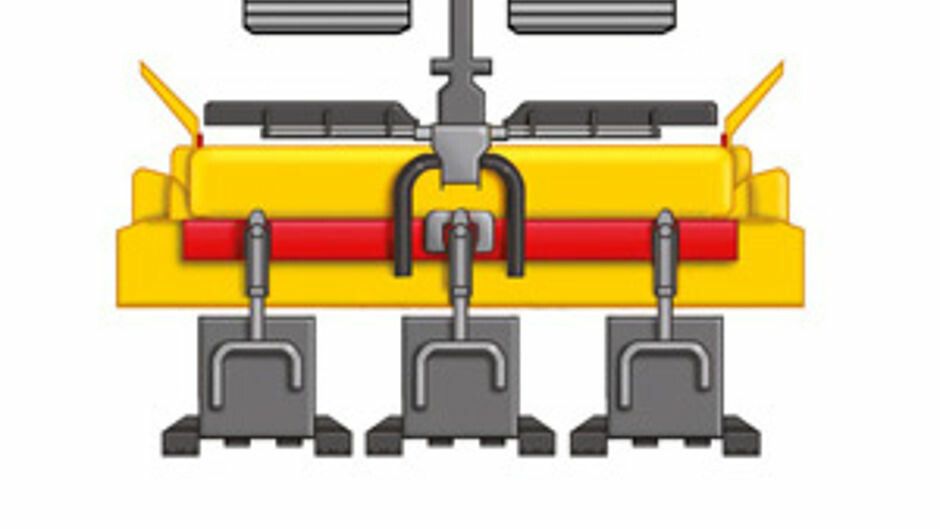 Tracking setters for every application
Precise Nordic track preparation and improved terrain adaptation due to deeper set track pans. Easy disconnection of cross-country tracksetters and tiller when not in use (VarioTrackDesigner) without requiring special tools.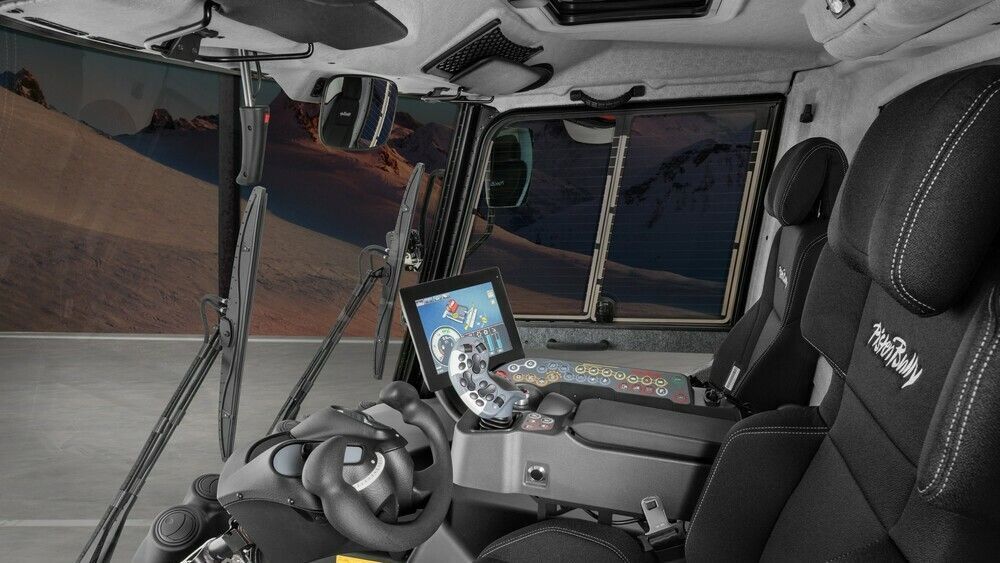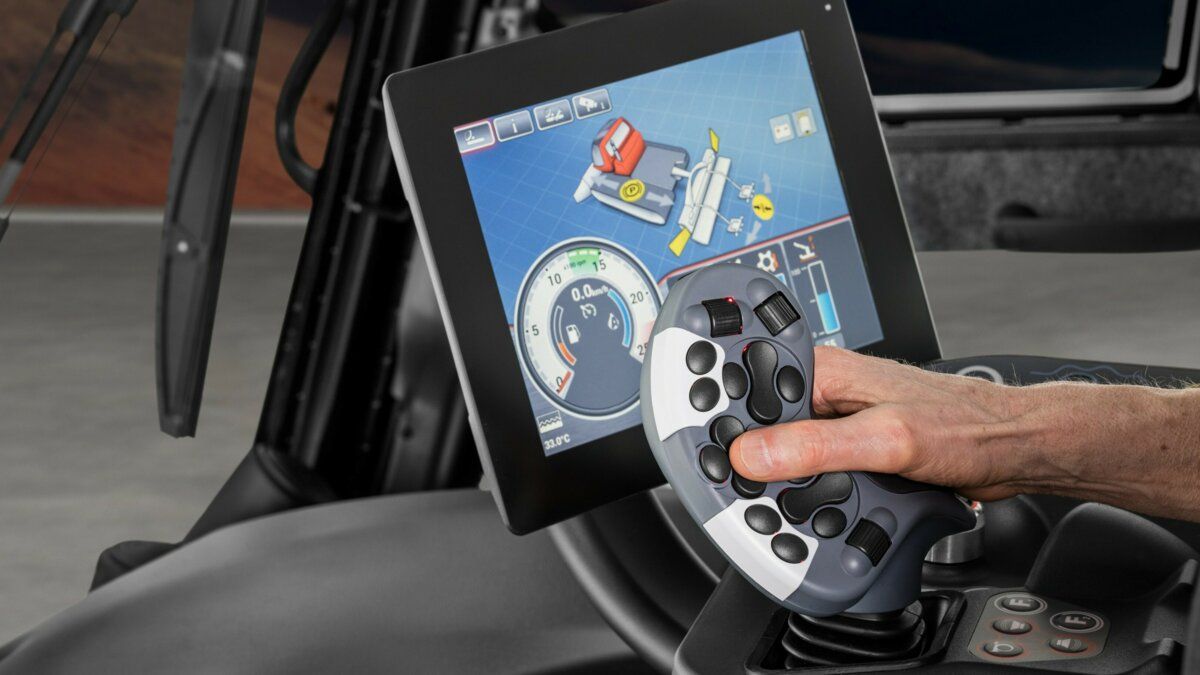 The newly developed ergonomic double-joint joystick, which can be moved freely in all directions at the same time and transmits the movements of the hand directly to the blade, makes working even easier. Lifting, lowering, changing the cutting angle, tilting and swiveling is now more intuitive and precise.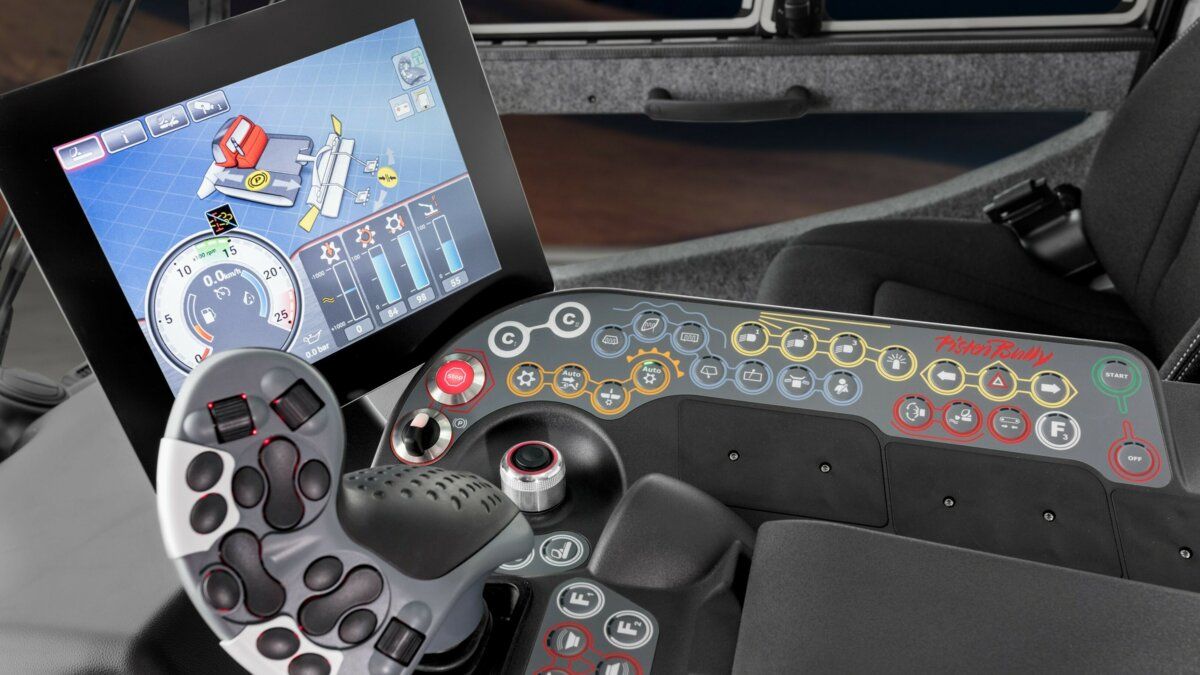 Individual touch button assignment
The control panel is located next to the armrest. The touch buttons can be assigned individual functions, allowing the control panel to be adapted to the driver's specific wishes.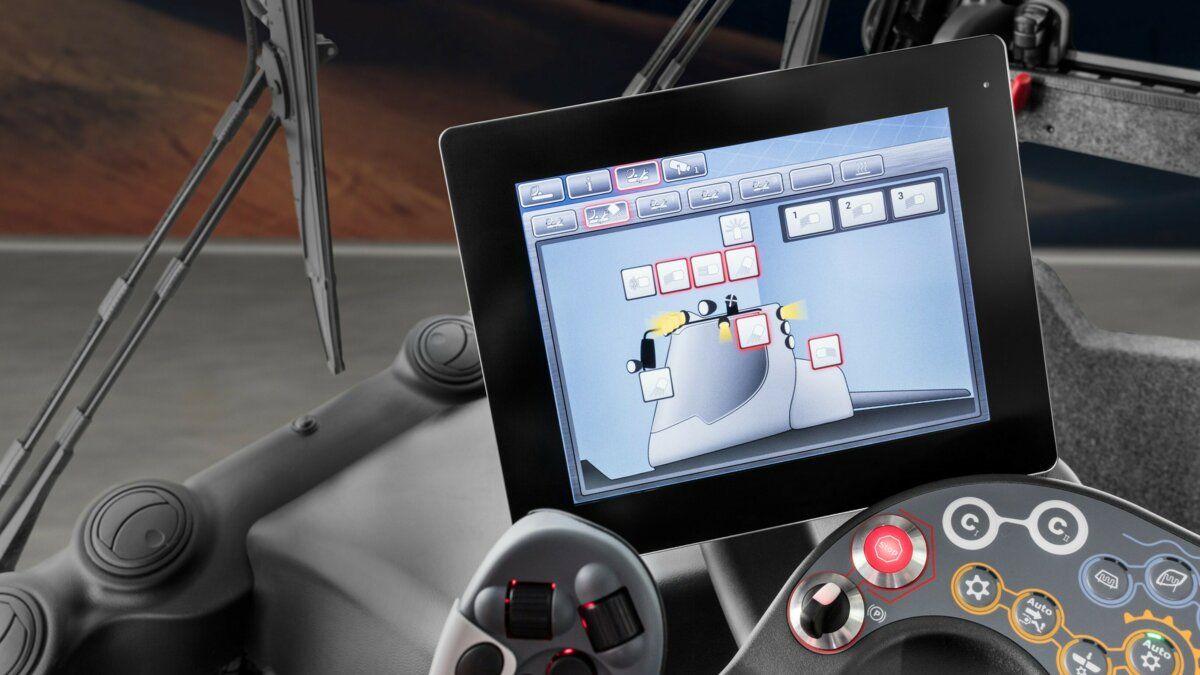 Perfect control over all vehicle systems is provided by the patented iTerminal with its clear 10-inch display, which has become even clearer and more user-friendly thanks to touch control, a new design and color highlighting of all active vehiclesystems.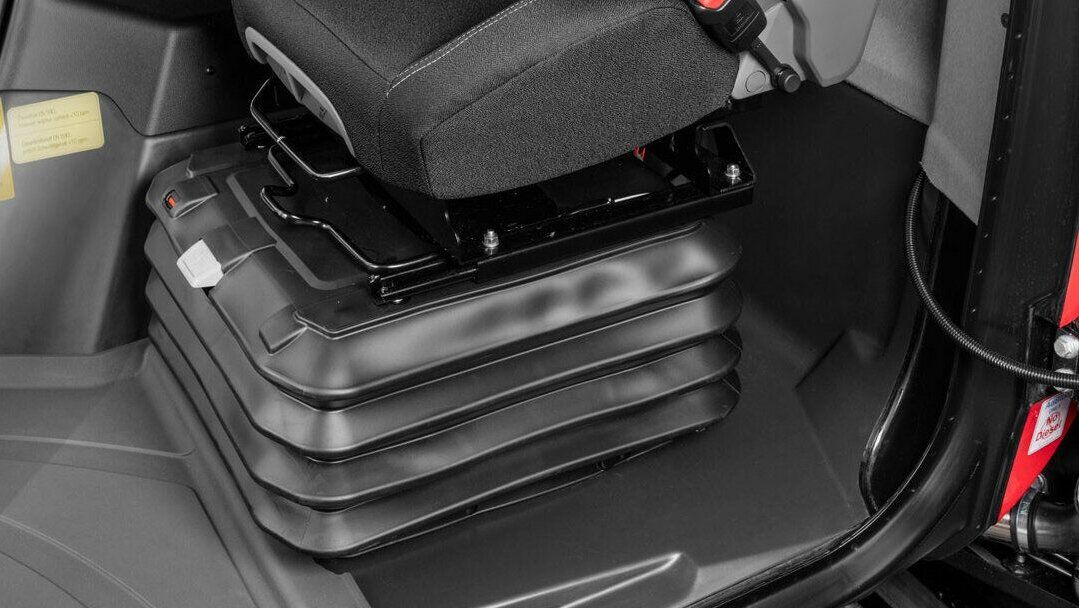 A new ergonomic seat with improved lateral support, many adjustment options and seat heating. In addition, the PistenBully 100 has an air-suspended heavy-duty seat frame for healthier working and more driving comfort.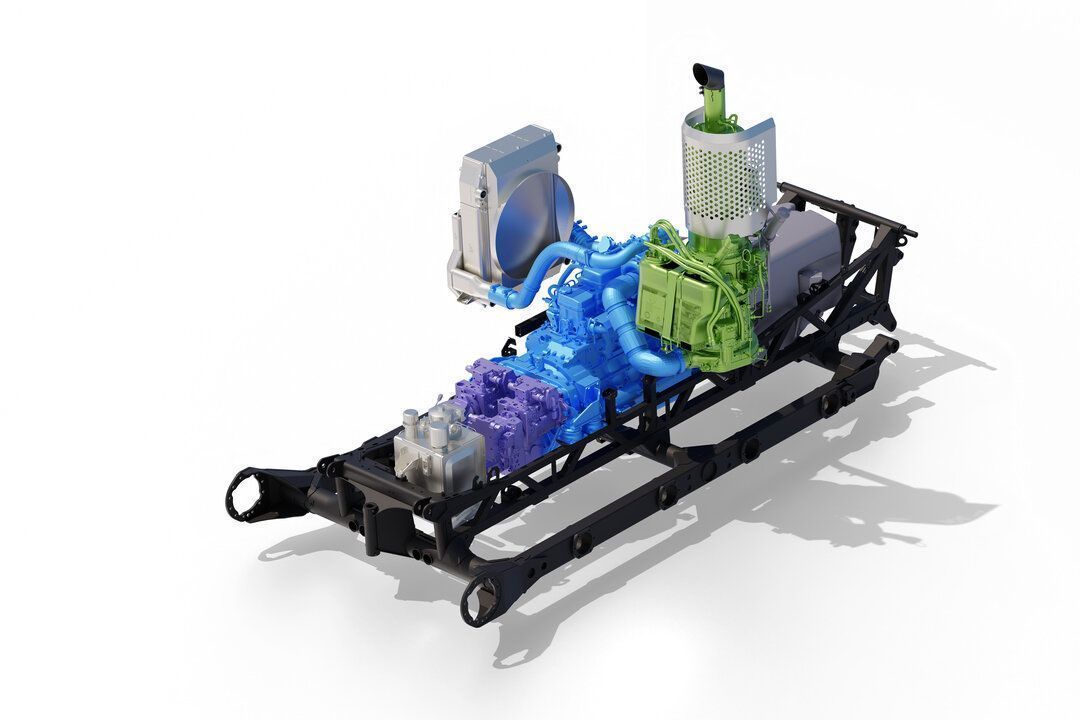 State of the art exhaust system
Dosing unit
Diesel particulate filter
Oxidation catalyst
SCR catalyst
Urea tank (AdBlue® tank)
Stärkster Motor seiner Klasse
Maximale Kraftentwicklung durch 16 % mehr Drehmoment bei gleichzeitig niedriger Drehzahl sorgen für eine spürbar höhere Leistung. Dazu kommt das vergrößerte Tankvolumen, bei gleichzeitig geringerem Verbrauch. Dies schafft genug Reichweite für eine stressfreie Schicht ohne Zwischentanken.
Stärkster Motor seiner Klasse
Mit dem sauberen 6-Zylinder-Motor inklusive Dieselpartikelfilter erfüllt auch der PistenBully 100 die EU Stufe V / EPA Tier 4F. Ein weiterer Vorteil: Der PistenBully 100 ist HVO ready.

Most powerful engine in its class, economical and efficient

More powerful than ever before. With 20% more thrust, the PistenBully 100 has become even more agile and powerful. It can take on new challenges and can be used even more flexibly - just as a multi-talent should be.
Most powerful engine in its class
Powerful 6-cylinder engine with 188 kW / 256 hp at 1,800 rpm
Impressive torque of 1,152 Nm at 1,500 rpm
Less fuel consumption due to reduced engine speed
Low vibration and significantly quieter
Charge pressure reduction for optimum cold start
Most environmentally friendly exhaust technology
Lowest emission engine according to EU stage V
New fuel gauge for the AdBlue® tank
Ready for indoor use
With diesel particulate filter as standard
Suitable for grooming in ski halls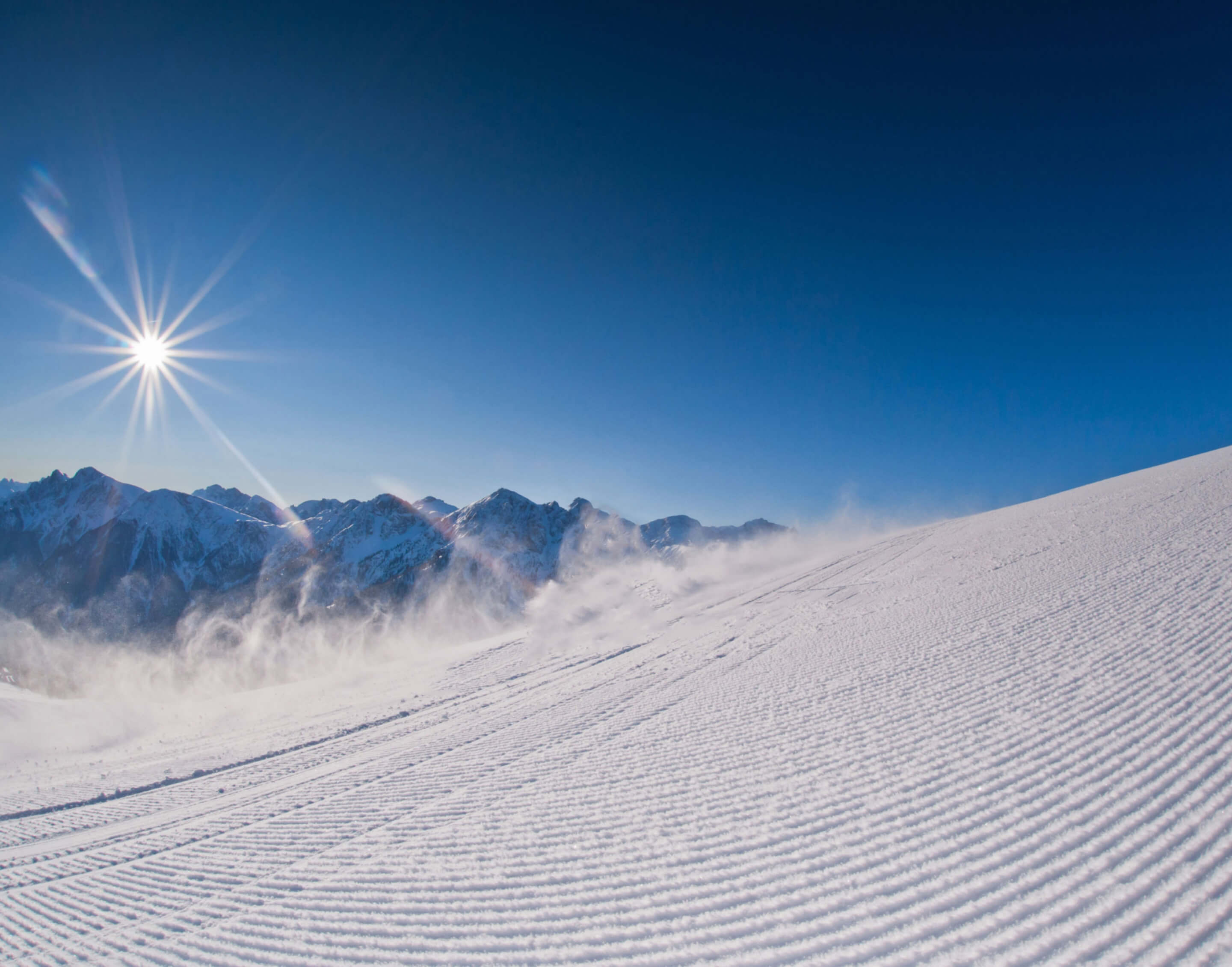 Assistance systemS Rear implement carrier with intelligent, active steering assistance. Possible in both rigid position (fixed) and floating position (relieved). When activated, the tiller follows the PistenBully in the same curve radius. Automatic countersteering on side slopes. For automatic support and assistance for the driver! SNOWsat snow depth measurement
The high-precision snow depth measurement helps the operator detect slope areas with small amounts of snow and identify snow reserves – under, in front of and on both sides of the vehicle. This way snow can be pushed with precision and maximum quality can be achieved for the slope structure. Increases productivity while conserving resources and helping to preserve the environment.
Technical data
| | |
| --- | --- |
| Type | Cummins B 6,7 |
| Cylinders | 6 |
| Displacement | 6.7 l / 6.700 cm³ |
| Power output (ECE) | 188 kW / 256 hp @ 1,800 rpm |
| max. torque | 1,152 Nm @ 1,500 rpm |
| Fuel tank capacity | 190 l |
| Fuel consumption | from 8.5 l/h |
| Tank capacity DEF (AdBlue) | 19 l |
| Exhaust emission standard | EU Stage V and EPA Tier 4F (USA) |
| | |
| --- | --- |
| Type | Cummins B 6,7 |
| Cylinders | 6 |
| Displacement | 6.7 l / 6,700 cc |
| Power output (ECE) | 256 hp @ 1,800 rpm |
| max. torque | 1,152 Nm @ 1,500 rpm |
| Fuel tank capacity | 41 gal |
| Fuel consumption | from 2.24 gal/h |
| Tank capacity DEF (AdBlue) | 5 gal |
| Exhaust emission standard | EU Stage V and EPA Tier 4F (USA) |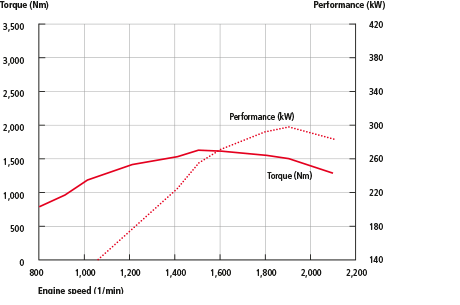 Individually adjustable steering wheel
The steering wheel can also be individually adjusted by the driver. Folded away to save space when getting out of the cabin, it then springs back to its stored original position.
Drivers seat
Air suspension with heavy duty seat frame, ergonomic geometry for better lateral support, multi-adjustable headrest, single-level seat heating, lap belt, mechanically adjustable: 3-level seat tilt, seat cushion longitudinal adjustment and 4-level lumbar support.
Latest exhaust technology
Thanks to the standard EU V emission level, the PistenBully 100 is not only at home on the cross-country ski trail, but also in indoor ski centers.
LED worklight
The new LED worklights on the grab rails at the front and rear ensure optimum illumination of the work area.
Heated side windows in any position
The side windows can be double-slid and heated in any position for optimum visibility - even when open.
Cabin
Charge pressure reduction for optimum cold start
Heated rear window
DAB+ radio with handsfree
Bluetooth and USB interface
USB socket in armrest
Technology package
The PistenBully can be supplemented with other hydraulically driven attachments, such as the front-mounted snowblower, by means of a front mount high pressure connection kit.
Solid tires
As an alternative to pneumatic wheels, solid tires are also available.
LED light package
The comprehensive LED light package supplements the worklights with LED front headlights and a third central LED rear worklight for perfect illumination of the work areas.
Comfort seat
Additional to the standard seat are these features: multi-stage seat heating, 3-point seat belt, active ventilation in seat cushions and back section, pneumatically adjustable: center support for better hold, side / back bolsters and lumbar support.
Cabins for 5, 8 or 10 persons
No other snow groomer of this class offers you this: the possibility to install cabins for passenger transport up to max. 750 kg, with foldable bench seat.
More options
Parking heater
Rear view camera
Central locking system
Rear lift frame with vibration damping when lifting / lowering
Rear lift frame with lateral damping when in side-to-side swing mode
Air conditioning (new: now inside the vehicle, instead of as a roof-mounted unit as in the past)
Hydraulic folding side finisher on the tiller
Searchlight
Seatbelt with shoulder harness
Hydraulic oil preheating
Brush guard
Stick control
Reinforced clamping axis
pistenbully 100 in action
Everything from a single source
As a total provider, Kässbohrer not only supplies the technology, but also the appropriate training and software.
Thinking about tomorrow today.
That's exactly what we've been doing since yesterday.
The topic of sustainability has a long tradition at Kässbohrer. It is firmly anchored in our corporate strategy and shows the demands we make on ourselves: To act responsibly with future generations in mind. To think holistically. Leading the way with innovative solutions to set new standards and help shape the future.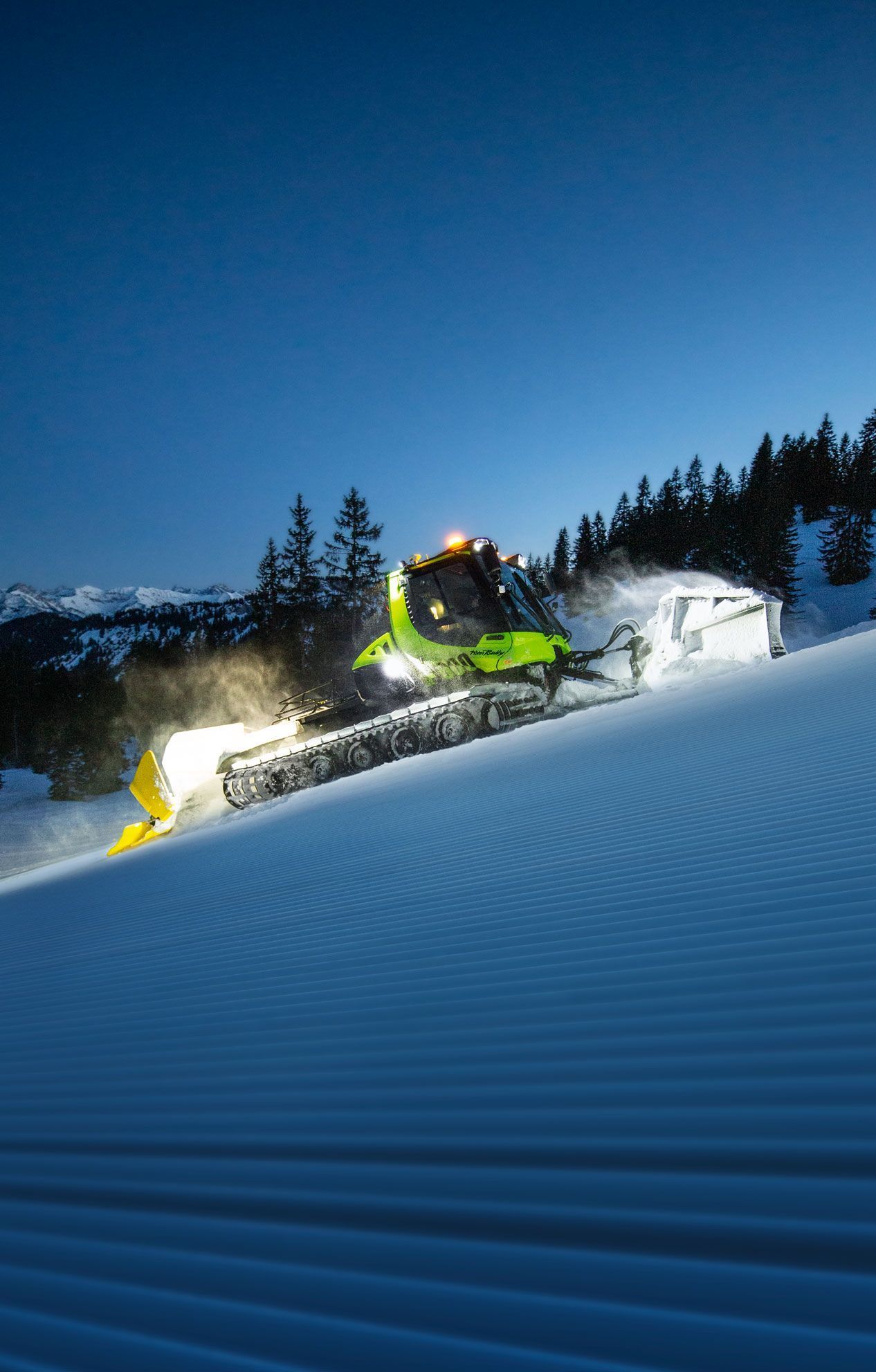 Contact
Your contact person helps