First choice for professionals
Get in, select personalized settings, drive off – this is now possible with all PistenBully vehicles, in a completely identical manner. Because the new PistenBully 400 completes the family: An entire generation with identical operating comfort and convenience, with the cleanest exhaust technology and the most attractive performance – and all this in the familiar quality.
What remains of the old PistenBully 400 is its perfect balance of force and weight and its outstanding maneuverability thanks to its compact dimensions. What is new and significantly better is the clean engine, the comfort cockpit and the intuitive operation that is also part of the PistenBully 100 and 600 vehicles. The assistance systems are also new, which makes driving even easier. Completely prepared for SNOWsat.
Building parks without the PistenBully 400 ParkPro has been unthinkable for quite a while. The 400 ParkPro is considered the professional tool for more creativity and perfection in the snow park. A highlight of the new generation is the completely overhauled auxiliary equipment – the ProBlade and, above all, the ProFlexTiller.
Intuitive operation: Uniform and still customized

Uniform operating concept of the current generation also in the ParkPro vehicles. The joystick makes it possible to build parks with control that is intuitive but also customized. In the ParkPro, the buttons can be assigned as you please – both the function buttons and the joystick. Four operator profiles can be called up individually.

Work: Flexible and precise
Thanks to the maximum flexibility and the enhanced movement radius, there are hardly any limits to the design of the park. The new system for measuring lengths and distances provides support at an accuracy of one meter.
In the park: additional equipment for professionals
Flexible ProBlade and ProFlexTiller for extremely precise shaping and forming for ideal results. These new attachments offer more leeway for creative work and make even more unusual shapes possible. The grooming strip on the ProBlade draws the typical cord pattern even in reverse motion.
Overcomes any slope: The 6-belt KombiPlus track
The high-performance and extremely wear-resistant track cleats of the 6-belt KombiPlus track and the optimized belt pitch are synonymous with high resistance and optimum force transmission and thus has the best pushing performance. The greater pitch provides better gradability.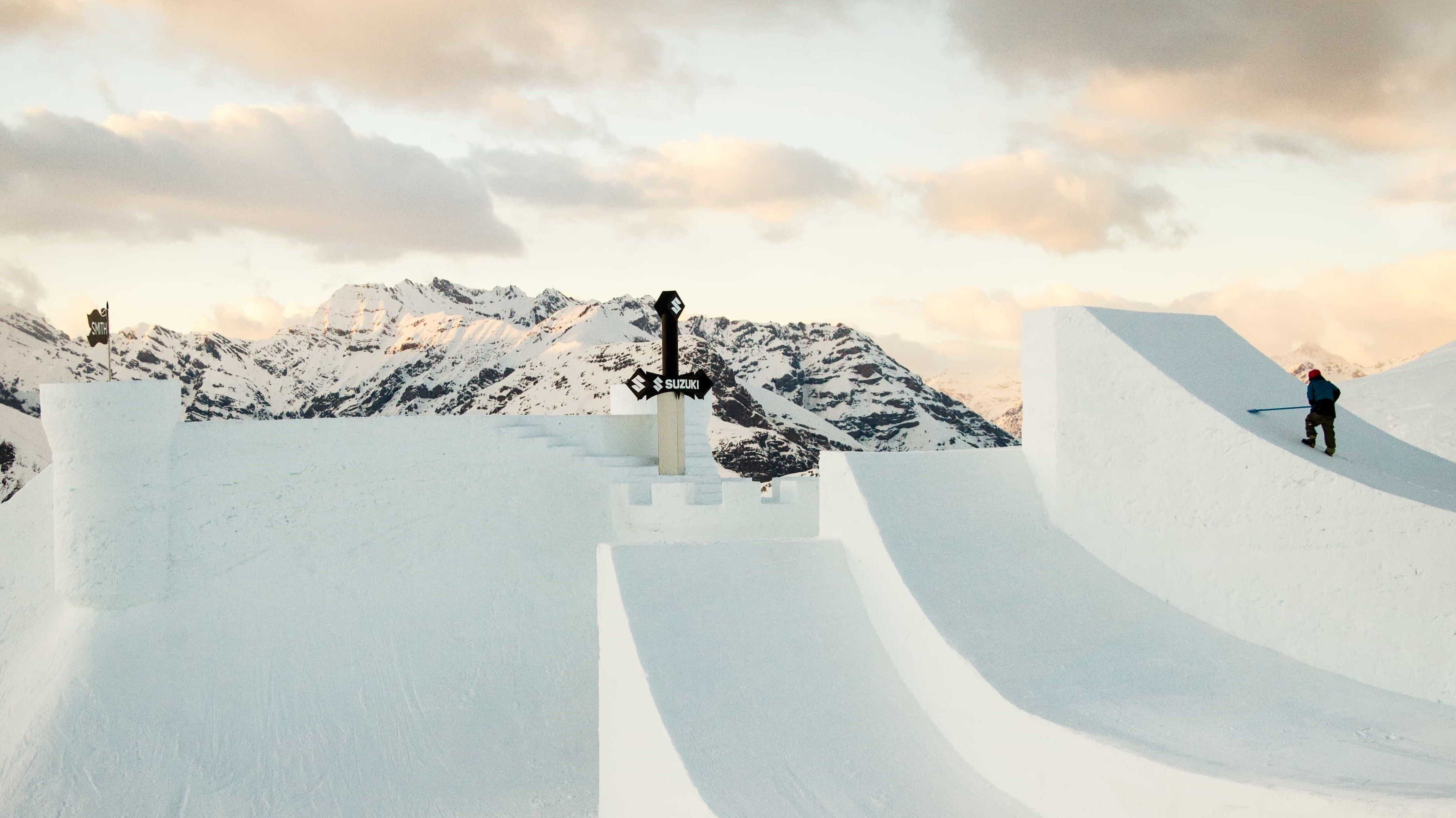 The park specialist – the PistenBully 400 in its ParkPro model variant: Developed in cooperation with the best operators and shapers in the world. Adjusted to the luxury of the new generation. Equipped with everything you could want for grooming snow parks.

ProBlade
The ProBlade makes edges even sharper. Its distinct side edges, corners and side cutter shape kickers in even greater detail. The new OneTouchStraight function sets the blade straight without limiting the movement of the side wings forwards or backwards.
Transport tines
Hydraulic control for the easy transport of rails, fun boxes and other park accessories. One person can do this even unassisted. Ideal for competitions.
ProMount swap system
With ParkPro kinematics and reinforced cylinders. No adapter frame necessary.
Park button
Control of the rear carrier via joystick for intuitive operation when building a park and for more comfort when coupling the tiller.
Auxiliary hydraulics
Faster response characteristics with direct and proportional control of all functions.
ProFlexTiller
The ProFlexTiller, with its expanded flex angles, offers a freeze function that can record the existing ground contour in a floating position and lock it hydraulically afterwards. The new hydraulic system also allows for approaching any position, including its end positions, hydraulically.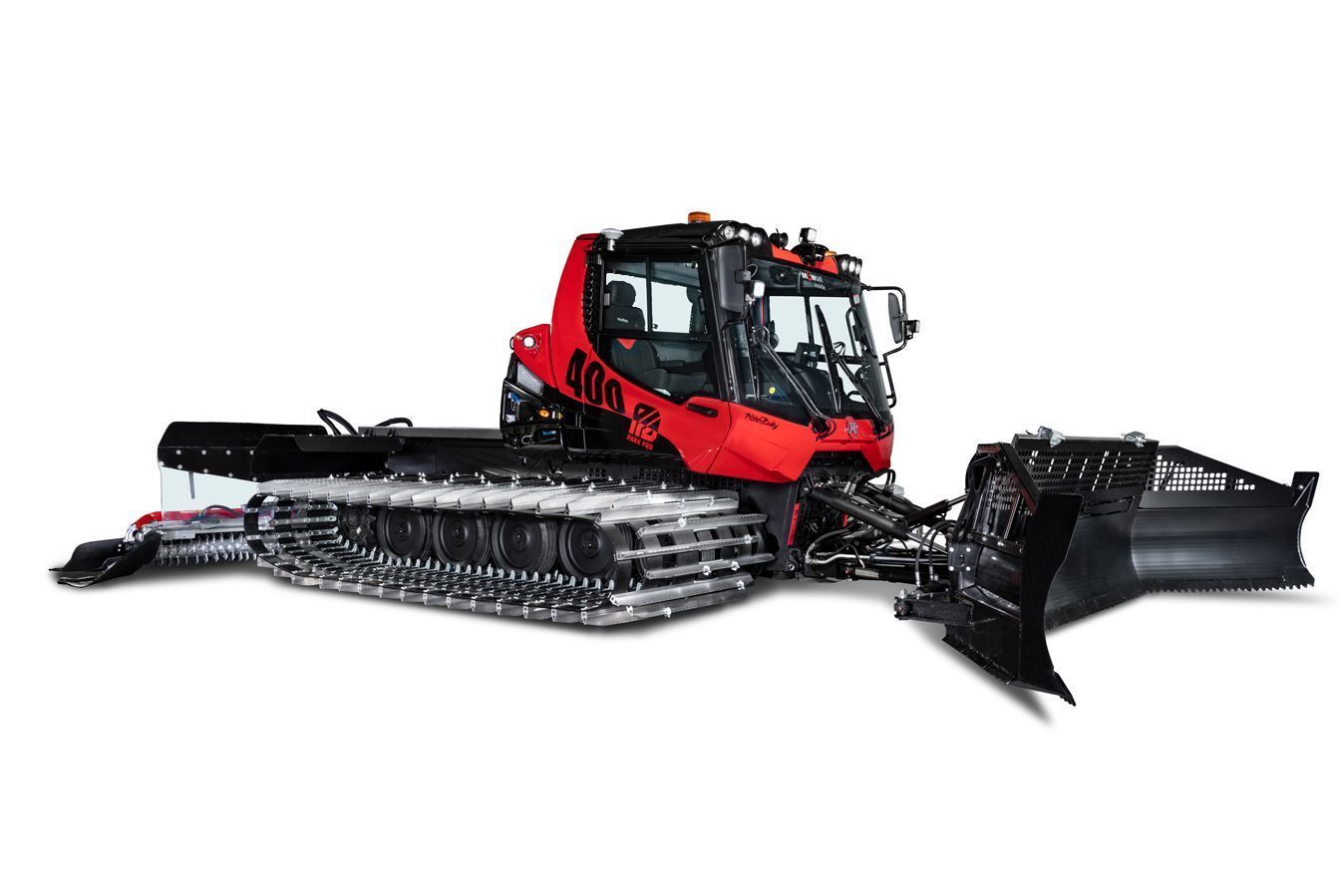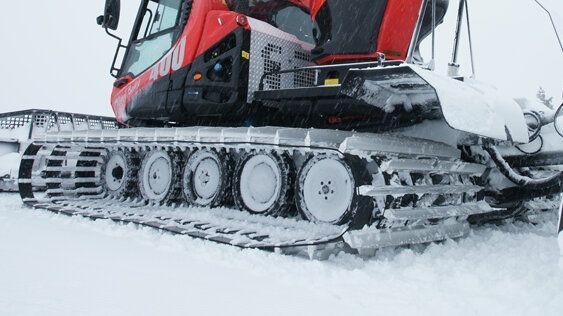 Fully overhauled – the new main frame, the stronger tensioning axle and larger drive pumps.
The new 6-band CombiPlus chain is extremely durable and stable. It conquers every slope and is easy to steer. Stable and capable of climbing!
Implement carrier
The new implement carrier is specially optimized for its main area of application and includes vibration compensation and damping as standard equipment. And it allows for enormous movement radii in park building in particular.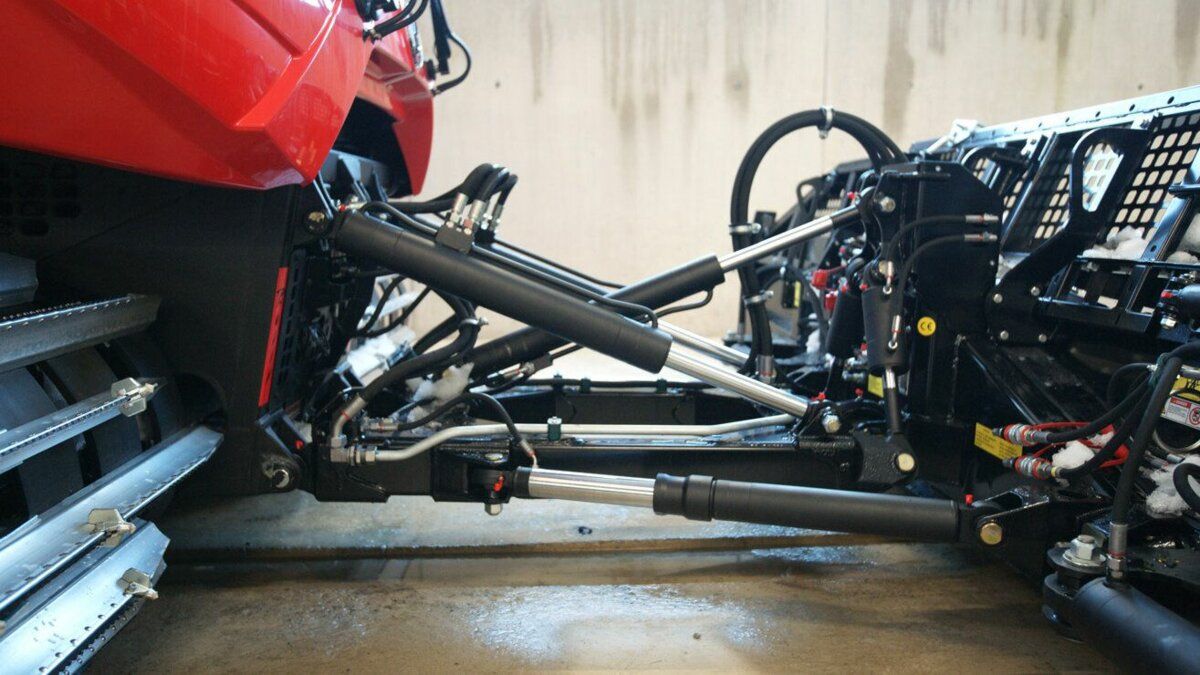 The ProMount swap system offers the optimum kinematics for even greater movement radii in park building. Thanks to strong cylinders and the high-performance proportional hydraulics, all requirements in the park can be met with precision, speed and power.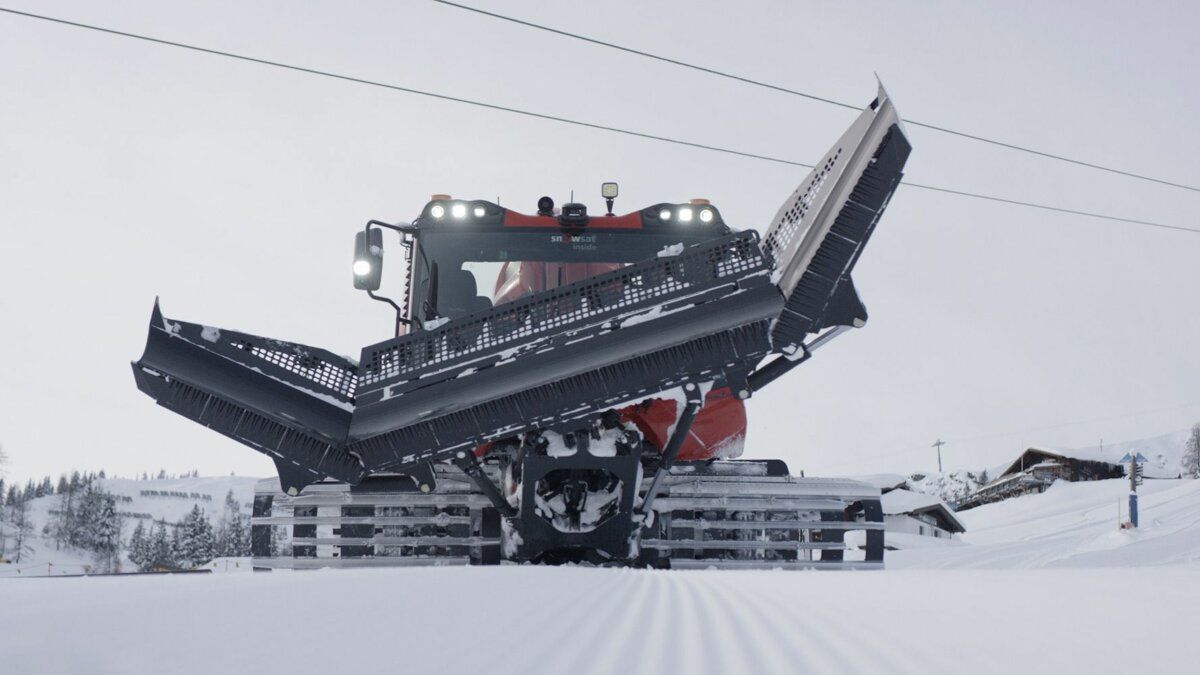 Flexibility is the advantage of the new ProBlade. Integrated hydraulic transport tines are the ideal solution for moving park equipment. The sharp side cutters shape kickers with ideal cutting edges. The OneTouchStraight function sets the blade straight at the push of a button. The wings can nevertheless be tilted backwards for better snow transport.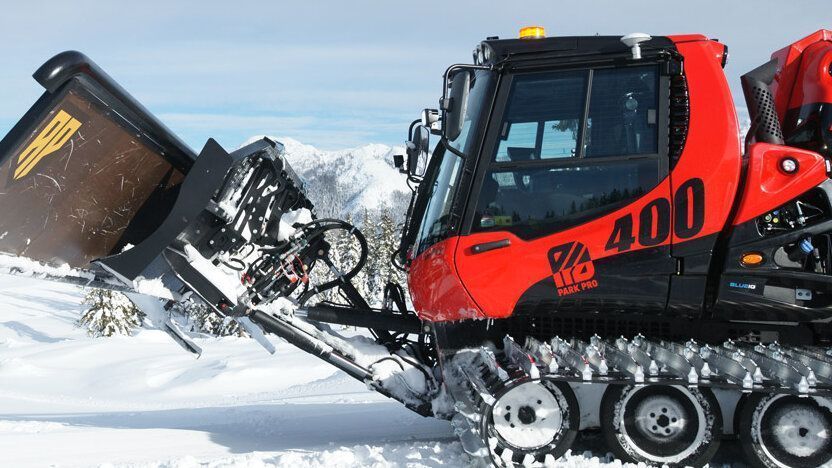 The operator is in focus. Our cab achieves this principle with comfort, ergonomics and intuitive operation. Large windows, a perfect arrangement and ideal lighting provide a good overview, especially at night. Optimized ventilation and a sun sensor for automatic heating and air conditioning regulation ensure an optimum cab climate. And lest we forget – there are various storage options and beverage holders!
ProFlexTiller
The ProFlexTiller, with its enlarged flex angle and V and A positions, provides optimum adaptation to the properties of the slope. The Freeze function does not just allow operators to approach any position but also to map each and every contour.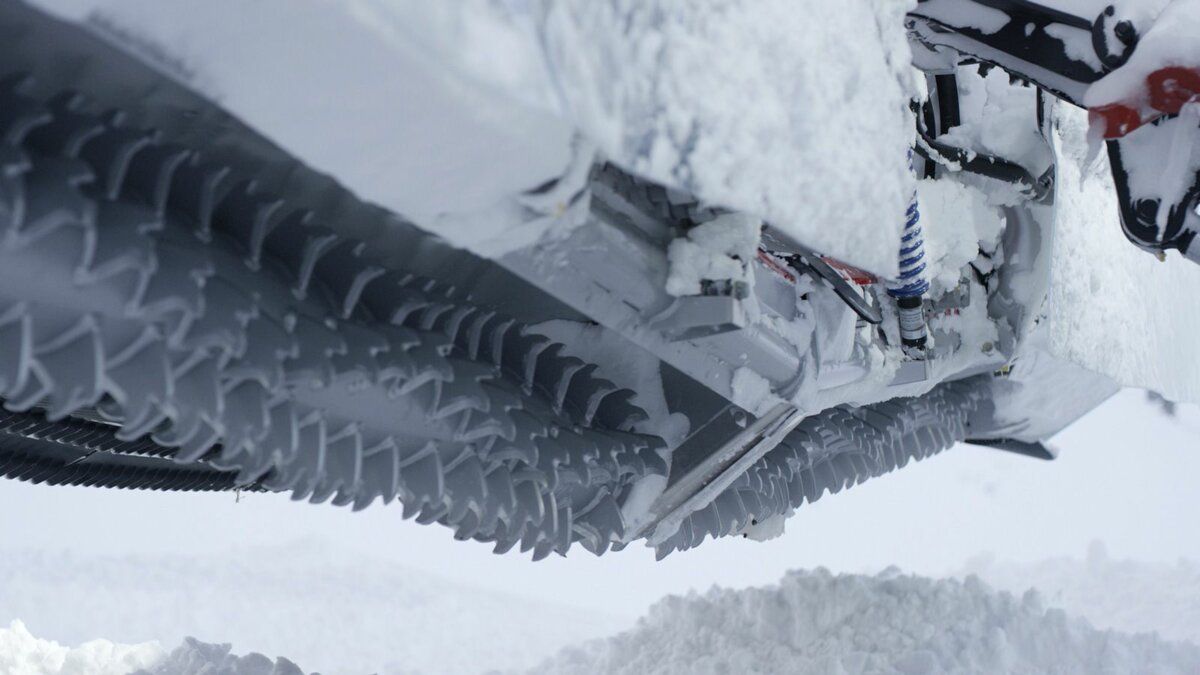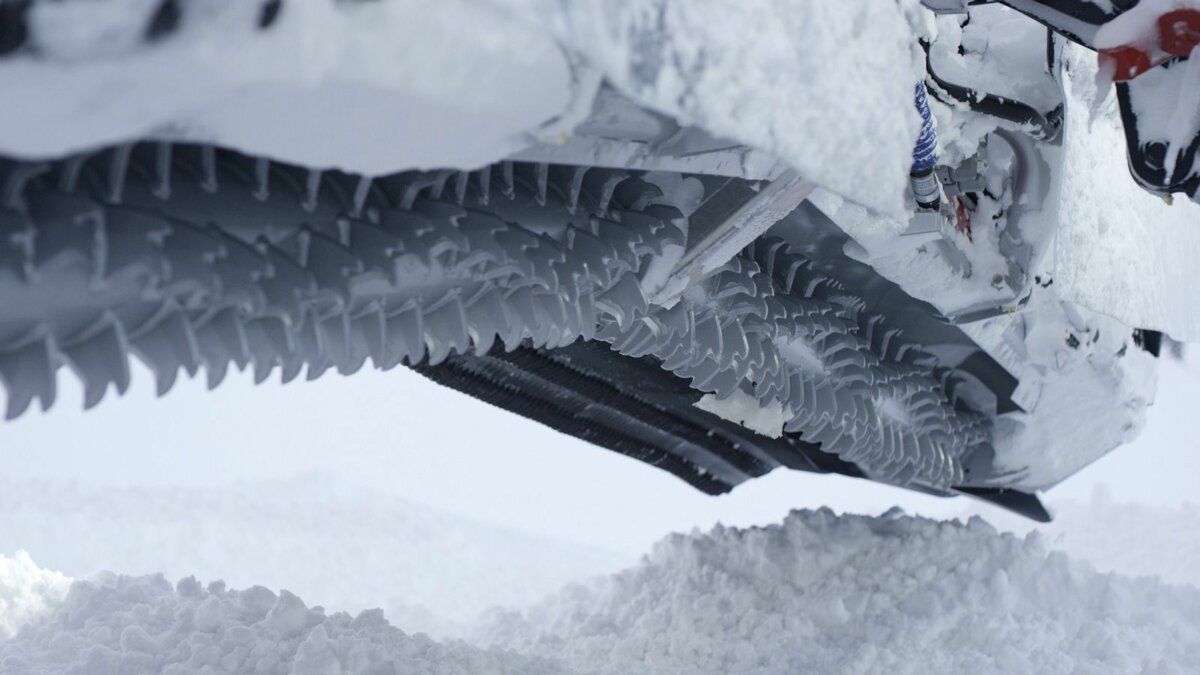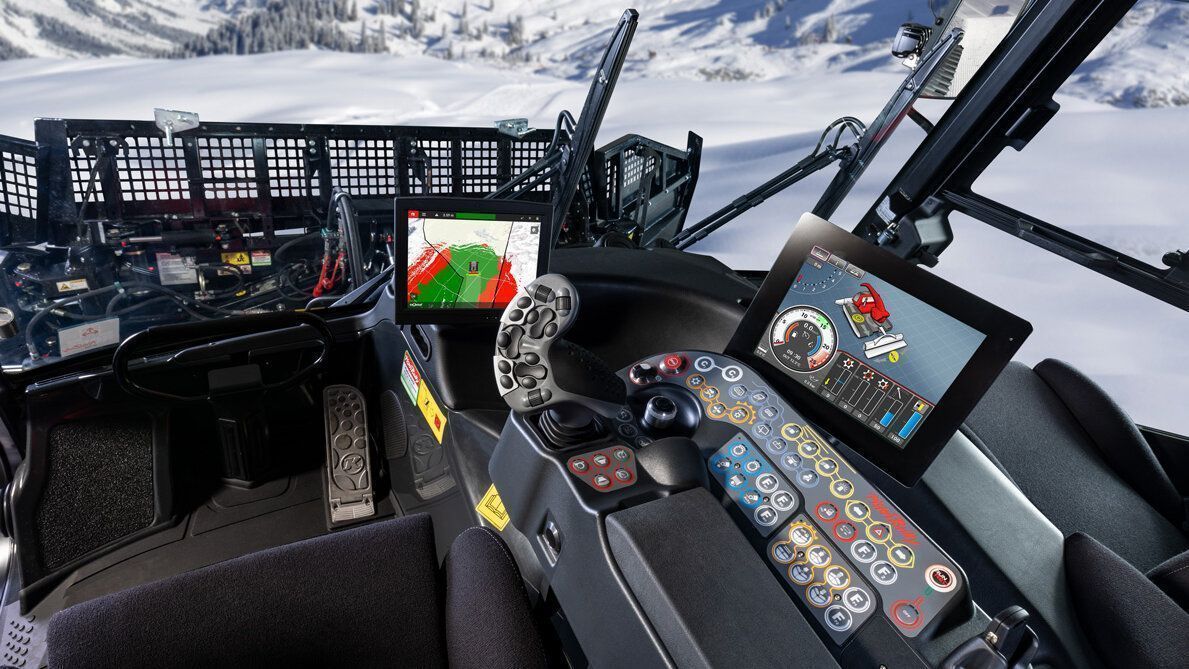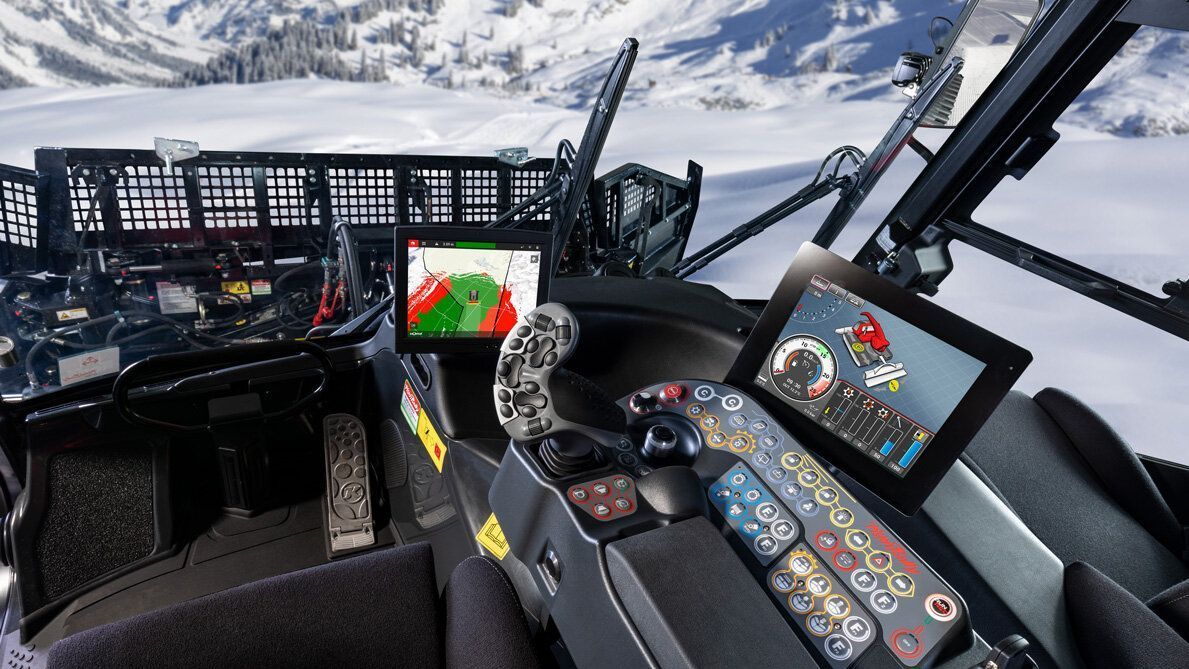 High-end and low-maintenance interior lining. New floorpan. Both with innovative heat insulation and significantly improved noise protection, which makes the PistenBully 400 quieter than ever. The optimized ventilation in the center console provides a perfect cab climate – on request with comfort automatic climate control system for the first time. In addition, there is plenty of space and freedom of movement.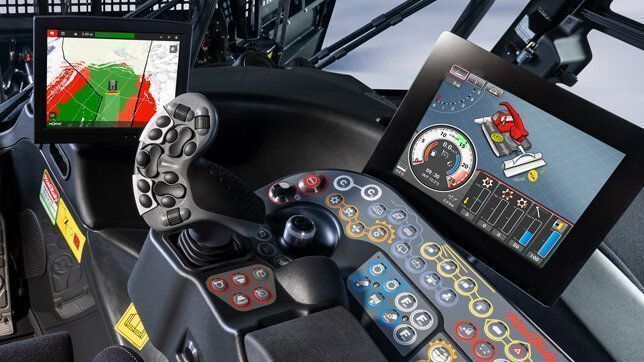 For a quiet hand and safe handling in any driving situation: driver's seat, armrest and joystick are permanently connected to each other. One ergonomic and comfortable unit. Individually configurable for the operator. Enabling fatigue-free working, even when tackling bumpy driving in difficult terrain.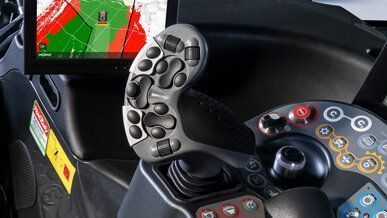 Ergonomic and free movement in all directions. For intuitive control. The joystick's four axes permit four simultaneous movements of the front blade. Proportional control of the attachments. All one-handed. Four operator profiles can be called up individually.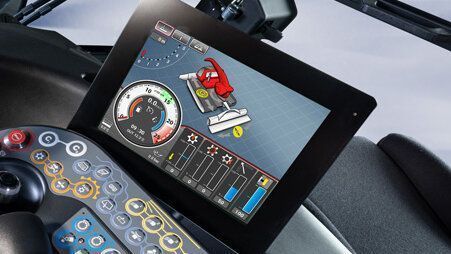 The touch display is intuitive and easy to operate. All active parts of the vehicle are color-highlighted. With a fast navigation option using symbols.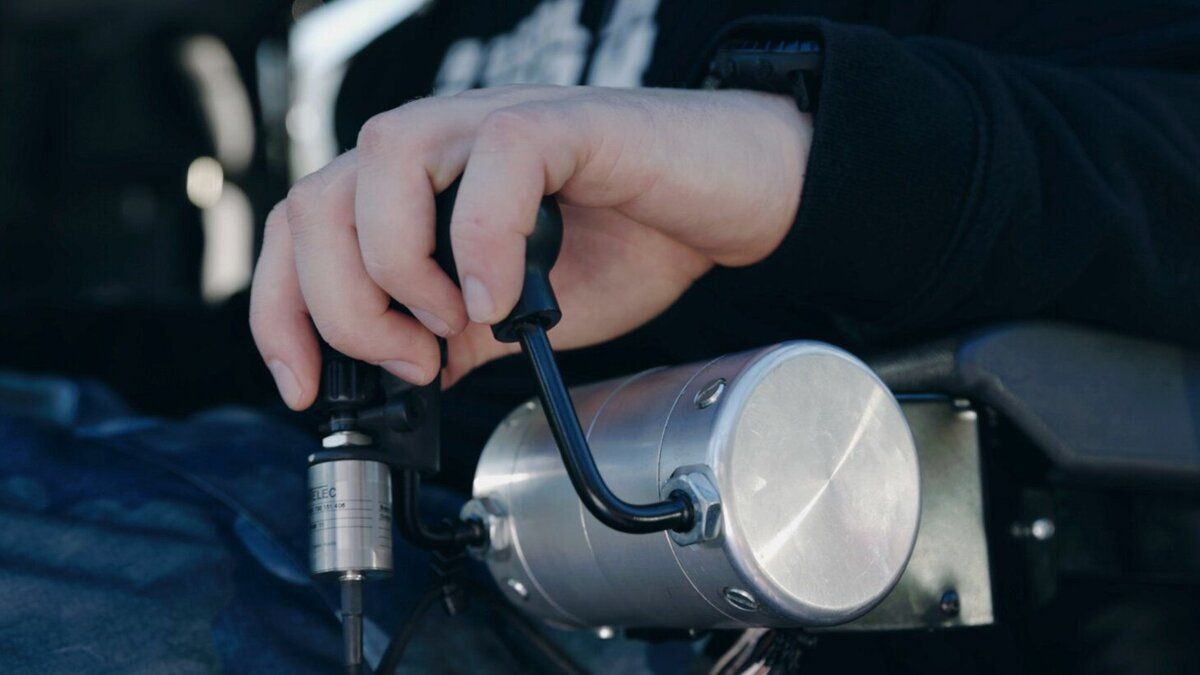 Drive control stick control for direct handling and steering. The power potentiometer controls the driving speed.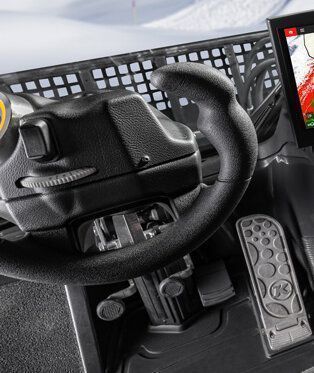 Semi-circular steering wheel
As an alternative option to the stick steering: The semi-circular steering wheel can be steplessly adjusted in the horizontal level and is easy to grip in your hand. The operator steers the PistenBully without any difficulty and finds the most important functions directly in the steering.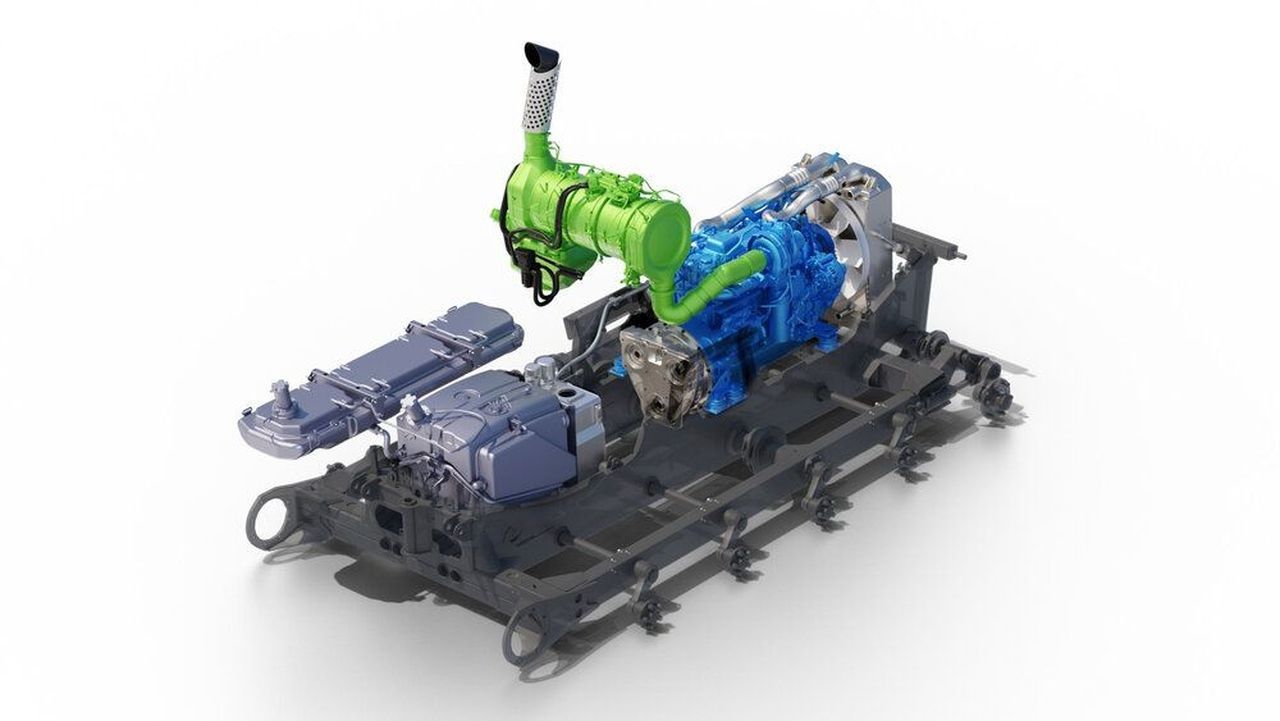 Compact engine
Compact engine with simple design. Fewer complicated components and improved access. Straightforward and easy to service; less prone to malfunction and faults.
Thanks to higher torque and better power-to-weight ratio, the PistenBully 400 is the most powerful vehicle in its class with the best pushing power and gradability!
Diesel particulate filter
Environmentally friendly fleet: Equipped with a clean 6-cylinder engine with 435 metric HP, including a diesel particulate filter, the PistenBully 400 also meets EU Stage V / EPA Tier 4 final.
Larger tank volume
Even though fuel consumption is lower, it has considerably more power and torque than the predecessor model. Longer range thanks to larger tank volume (360 L) for efficient and economical operation.
Stronger power transmission
Thanks to larger drive pumps and an optimized gear ratio, the speed and tractive force increase significantly.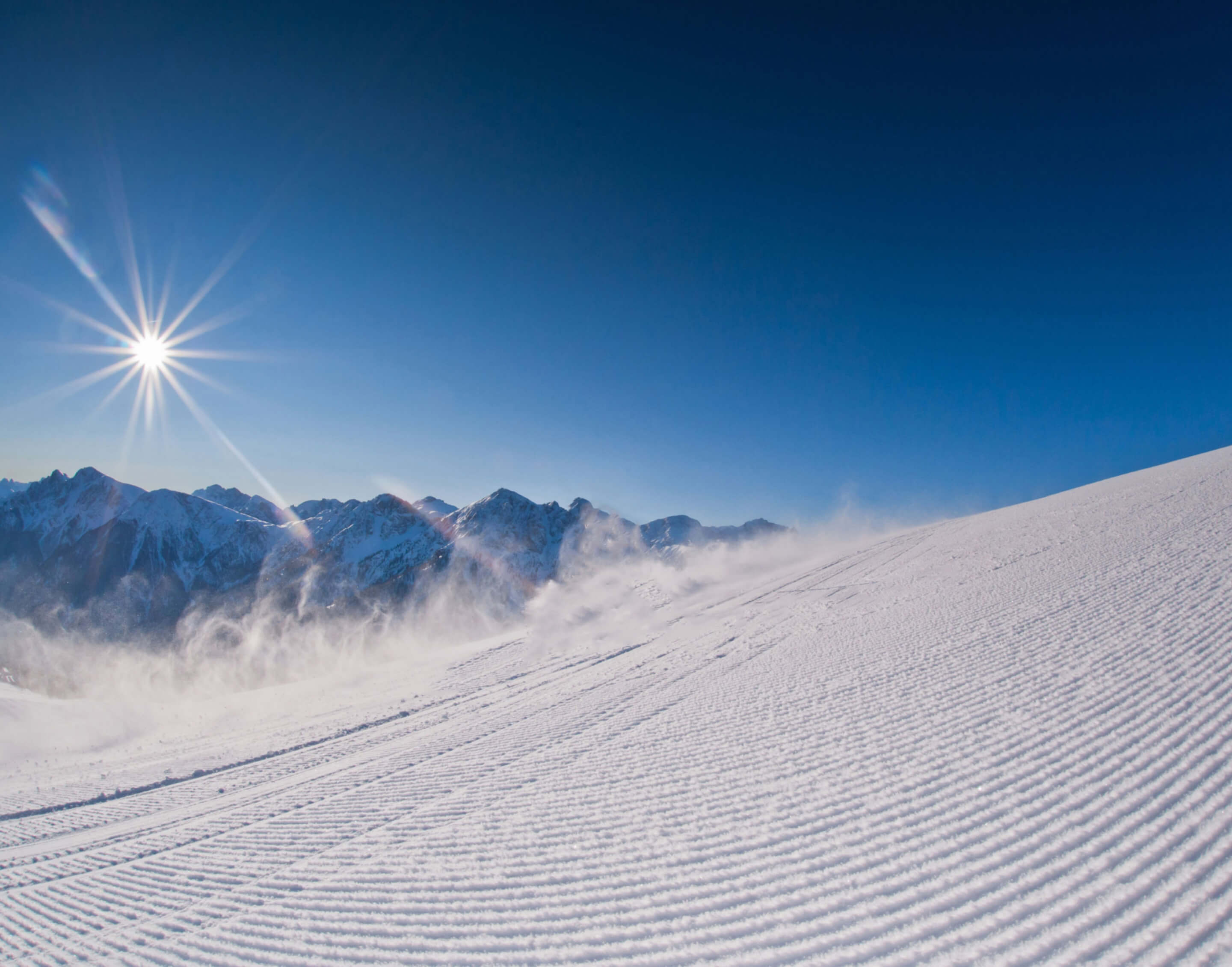 Assistance systems AutoTracer
Rear implement carrier with intelligent, active steering assistance. Possible in both fixed position (locked) and floating position (released). Automatic steering support while cornering. Automatic counter-steering on cross-slopes. For automatic support and reduction of the driver's workload!
Technical data
Engine
Type
Cummins L 9
Number of cylinders
6
Displacement
8.90 l / 8,900 cc
Power in accordance with
320 kW / 435 metric hp
Exhaust gas standard
Tier 4f and EU Stage V
max. torque
1,846 Nm @ 1,500 rpm
Tank capacity
350 l
DEF (AdBlue®) tank
36 l
Fuel consumption
from 19.5 l/h
Traction drive pump
145 cc
Propulsion drive
107 cc
Tiller drive pump
105 cc
Tiller drive
2 × 63 cc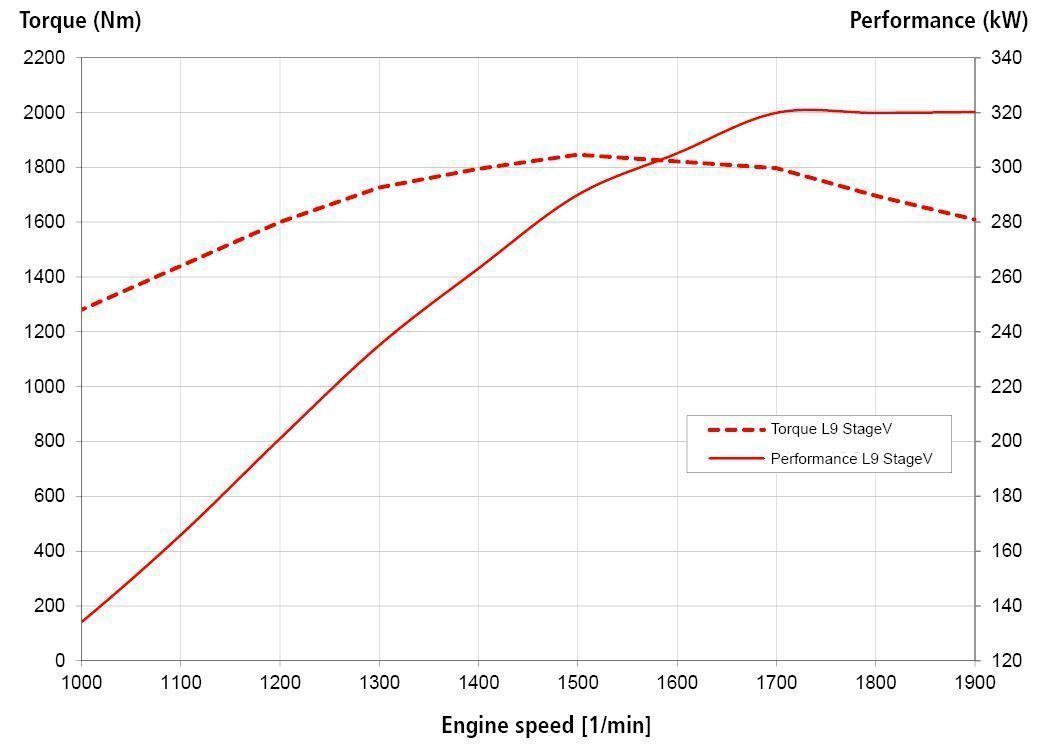 Engine
Type
Cummins L 9
Number of cylinders
6
Displacement
8.90 l / 8,900 cc
Power in accordance with
320 kW / 429 hp
Exhaust gas standard
Tier 4f and EU Stage V
max. torque
1,846 Nm @ 1,500 rpm
Tank capacity
92.4 gal
DEF (AdBlue®) tank
9.51 gal
Fuel consumption
from 5 gal/h
Traction drive pump
145 cc
Propulsion drive
107 cc
Tiller drive pump
105 cc
Tiller drive
2 × 63 cc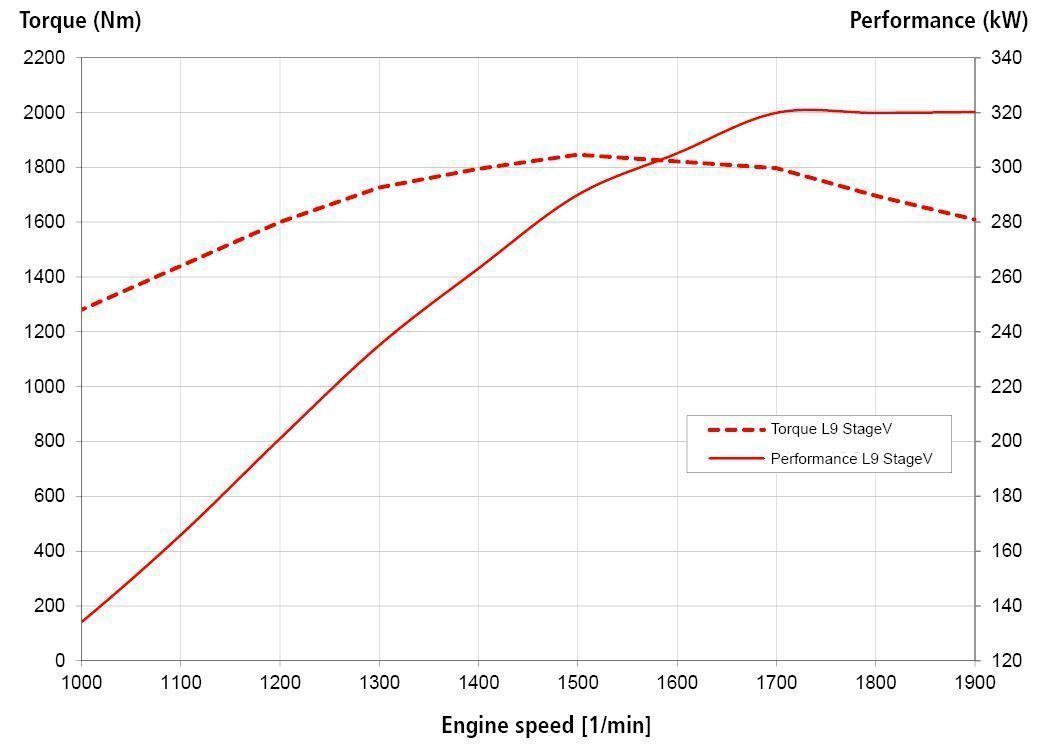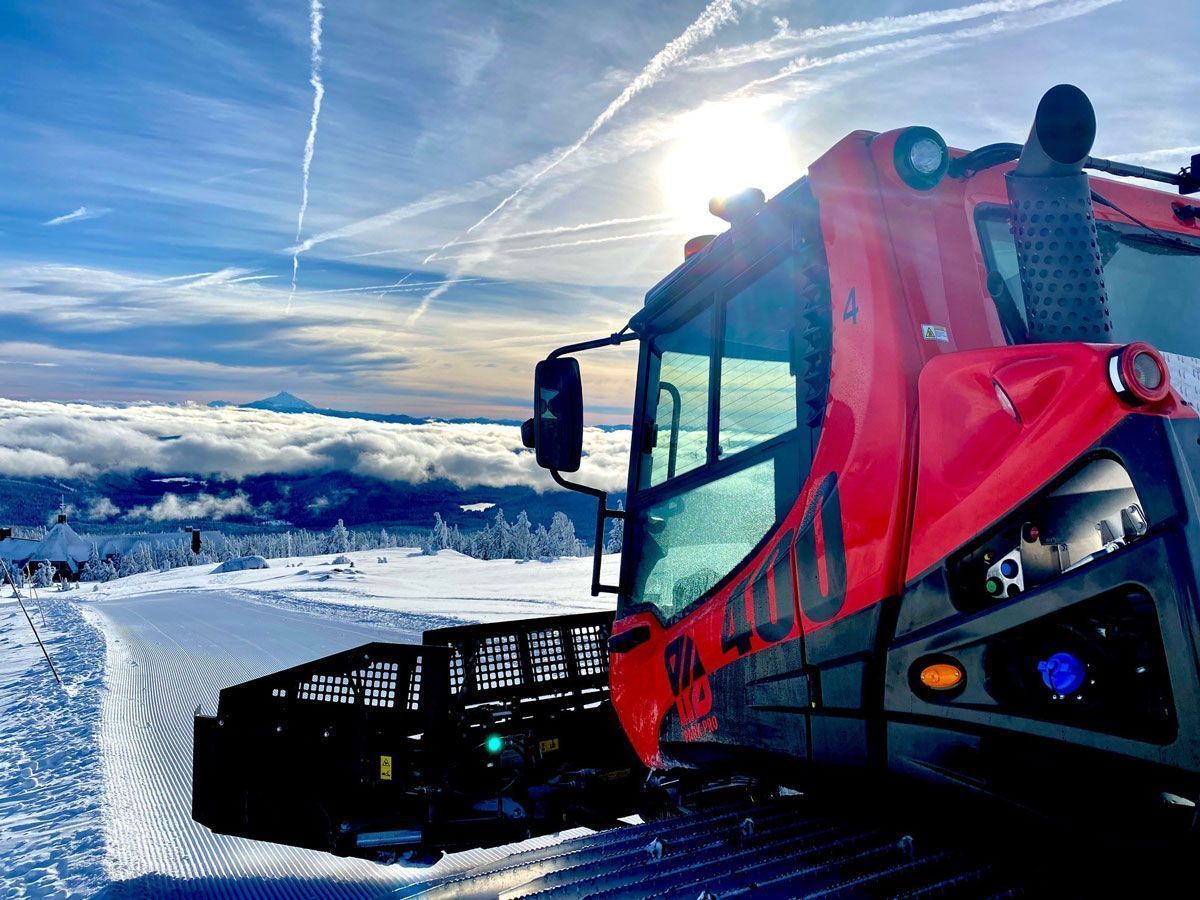 "

The parks evolve extremely quickly, and with the help of these vehicles, you can follow the trend and even be ahead of it.
Gear box, chassis & wheels
Optimized splitter box, less noise and vibration
Only trailing axles for improved driving characteristics
Optimized main frame for improved accessibility to the drive components
Tensioning axle with reinforced rocker levers and wheels supported by larger tapered roller bearings
Magnum sprocket
Functional fenders to prevent throwing snow
NoDeck for optimum visibility on chains and tiller
Hydraulics and auxiliary hydraulics
Electro-hydraulic brake
New pump splitter gearbox tilts the drive pumps outward by 5° for optimized accessibility
Specific output 40% higher than predecessor model
Optimized control for higher efficiency
High pressure filter
Calibrated valves with identical response characteristics in all vehicles
Best-in-class speed and response
Individually adjustable valve characteristics
All functions can be controlled proportionally and independently
Identical parts (e.g. proportional valves and solenoids)
Charge pressure reduction
Cabine
Comfort driver's seat
DAB + radio
Bluetooth handsfree set
Connections: USB and audio in
Harness
Premium sound package with Alpine subwoofer and amplifier
Rear camera color
Stick control with power potentiometer for temporary rise of engine speed
Inclination sensor
LED-Lighting
LED headlights
LED SideFinder lights integrated into the carrier frame
LED TillerFlap lights
LED BladeFlap lights
LED turn indicators and rear lights integrated into the carrier frame
Electronics and batteries
Straightforward onboard diagnosis with plain-text fault readout
Automatic temperature compensation with cold-running protection of the components
Easy to maintain thanks to reduced variety of parts
Technology and engine
Trailer hitch
High-pressure connection for hydraulic front attachments
Hydraulic oil preheating
Solid rubber wheels
Cab and comfort
Auxiliary heating
Automatic air conditioning
Central locking system
Everything from a single source
As a full-service provider, Kässbohrer not only supplies the technology, but also the appropriate training and software.
Thinking about tomorrow today.
That's exactly what we've been doing since yesterday.
The topic of sustainability has a long tradition at Kässbohrer. It is firmly anchored in our corporate strategy and shows the demands we make on ourselves: To act responsibly with future generations in mind. To think holistically. Leading the way with innovative solutions to set new standards and help shape the future.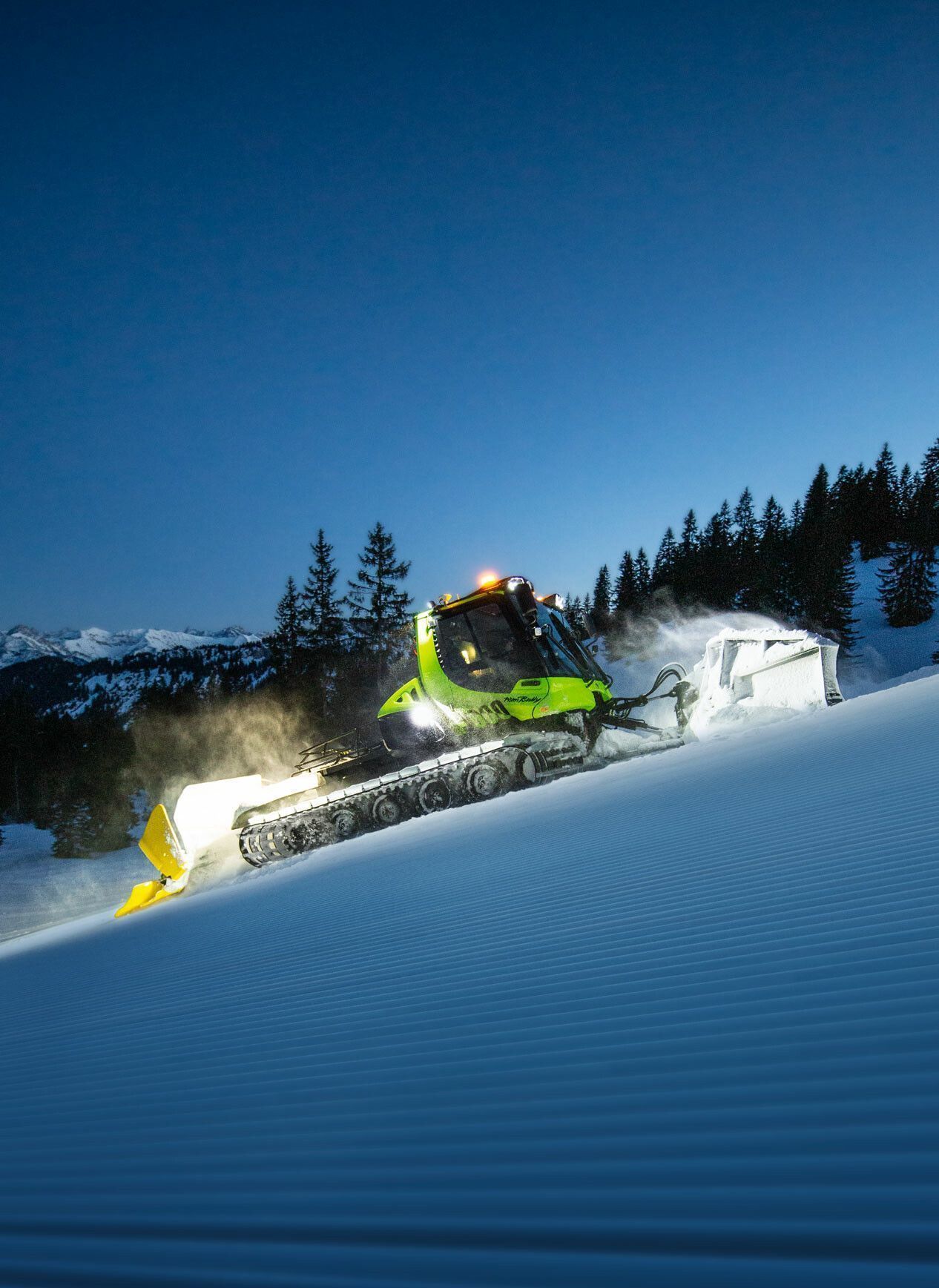 Contact
Your contact person can help